Central Sound Preforms in 2016 "A Bradley Classic" Competition
October 6, 2016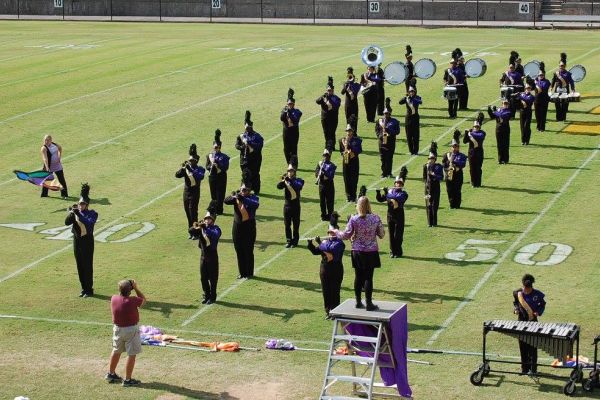 Rick DeYoung
Members of the Central Sound of Chattanooga have been rigorously practicing to master the unique sounds of Central's band. On top of preforming at Central High's football games, the band competes in several competitions throughout the year to show off their skills. One of these events took place on Saturday, October 2 at Bradley Central High School in Cleveland, Tennessee.
Central participated in "A Bradley Classic" and received third place in the Class AA division, where they competed against many local schools such as Hixson and Red Bank High School.
"Our score of 66.8 was out of 100.  However, the winning bands in our division, Signal Mountain, and the winning band in the large band division, Soddy Daisy, which are both fine Hamilton County Band Programs, scored 78.5 and 81.9 respectively.  Our percussion, fifth overall, and visual effect, seventh overall, scores were two of our highest scores across the large and small band divisions," explained band director Joshua Bloodworth.
While band members have been practicing and rehearsing for several months, they only have a few minutes to shine at competitions. Members not only practiced for several days in July, but they also practice every Monday, Tuesday, and Thursday during the school year for over two hours every day.
"We did not do too bad, but we definitively could have done better," stated sophomore marching band member Edicklee Frias-Cruz.
In order to receive these high scores, students must input effort and practice nearly everyday to succeed.
"I told the students this past week that they are only limited by their own effort and focus.  They have all of the tools to not only compete, but to win competitions.  It's all about what they choose to do.  It is their experience, and I am willing to guide them along to whatever heights they wish to achieve," shared Bloodworth.
The Central Sound of Chattanooga marching band plans to participate in UTC Band Day on October 22nd, and the concert band will be participating in the annual state Concert Festival in the Spring.