Central's Choir One of Eight to Perform at Hamilton County Choral Festival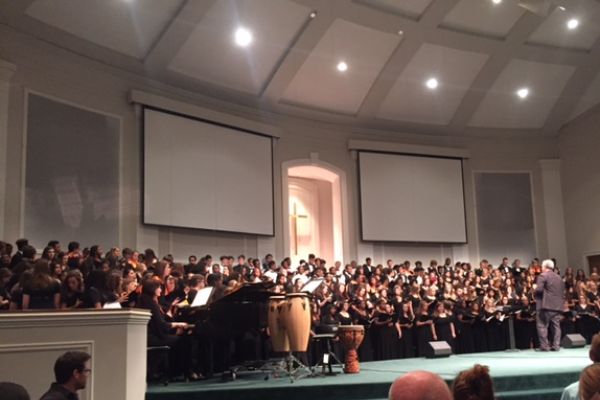 As autumn settles in and winter begins to approach Hamilton County, Central High School has blessed their students with the opportunity to attend the Annual Hamilton County Choral Festival to celebrate choral music. With 340 students attending in total in addition to the adult choirs, this event allows for students across the county to interact with each other through the expression of song.
The festival took place on October 4, 2016, at six p.m. with free admission. The festival was hosted by Ridgedale Baptist Church, and lasted for approximately one hour.
Seven Hamilton County schools participated this year: Howard High School, CSAS, East Hamilton High School, Ooltewah High School, Brainerd High School, Signal Mountain High School, East Ridge High School, and Central High School.
"This will be the largest amount of students that will have ever attended this festival in the five years that Central has attended. Last year, there were only five schools participating," phonated Central's choir instructor, Martha Boutwell.
Five faculty members from University of Tennessee conducting the collective choirs. Dr. Kevin Ford will be directing the Mass Choir, Professor Perry Ward will be conducting the Men's Choir, and Professor Alison Atherton will be conducting the Women's Choir. Dr. Lee Harris and Dr. Monty Coulter are assistant professors that will be responsible for the lead rhythm and the sight-singing.
Since there was not a theme that was required of all schools in this festival, Central's Choir instructor, Mrs. Boutwell, selected the festive, choral piece of "Oceans and Stars," composed by Amy Bernon.
"This piece expresses life's journey with friends and hope for the future. The song is very lyrical and is appealing to the students, not only for its melody, but also for the significance of lyrics. There is also a hint of pop in the piece which makes the song even more appealing to the students," elucidated Boutwell.
Despite the noncompetitive intentions of the festival, student still display their competitive spirit and passion.
"The festival went well, but East Hamilton and Ooltewah High School was performed really well this year," commented a choir student DeShun Coonrod. "But overall, the festival was really fun. I enjoyed my time there!"