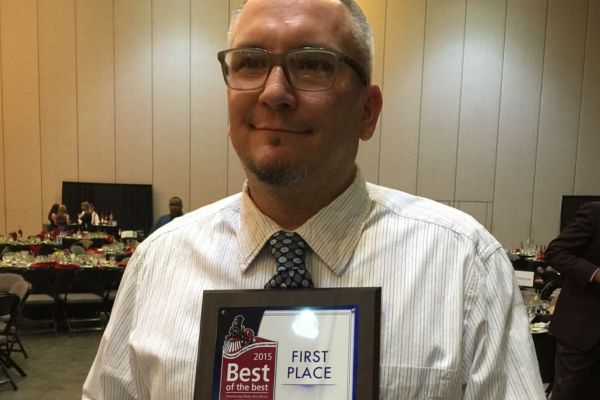 Teacher Spotlight: Mr. John Daum is a Beloved Member of Central High School
Mr. John Daum is a favorite teacher among students at Central High School. After graduating from Summit University in 1992 with a Bachelor of Science in Bible Studies, he began his career in teaching all of his favorite subjects including literature, philosophy, religion, and history.
Mr. Daum started out as a high school teacher at Grace Baptist Academy before coming to Central in the mid 2000's as a Bible History teacher, though he has since started teaching English and Philosophy, in addition to that class. Throughout his years at Central High School, Mr. Daum has become one of Central's most beloved teacher, especially by the students who have participated in his classes. Encouraging students to think with a bit more open-mindedness is Mr. Daum's forte, according to several of his students, including Monet Henderson, a junior at Central High School.
"Mr. Daum gives us something to think about. He has this way about him that just forces us, as students, to think about things in a completely different way!" admitted Henderson "He challenges us and he definitely makes school less boring!"
Before he began his teaching career, Mr. Daum spent quite a bit of time working some eccentric jobs.
"I've done a little bit of everything. I worked in a toll booth on the Walt Whitman Bridge in Philadelphia. I've worked in an Italian bakery, I was a florist, I managed a clothing store in the mall, and I've worked in an oil refinery." shared Mr. Daum.
Students all over Central know Mr. Daum to be more than just a teacher; students find him to relate very well to them and their situations and you can often find him offering philosophical advice to just about anyone who asks for it.
"He's more than just a teacher. He's easily one of the most respected teachers at Central," stated Reubin Thrasher, a senior at Central.
Philosophy and Bible History are his pride and joy and he is one of only fourteen Bible History teachers in Hamilton County. He has also won the Best Teacher Award for the Chattanooga Times Free Press. His love for his school is apparent in everything he does, and he is respected as Central for that.
"I love this school! It is easily the most diverse school in Hamilton County by any metric you choose. I love that students here get exposed to people that are different than they are," shared Mr. Daum.