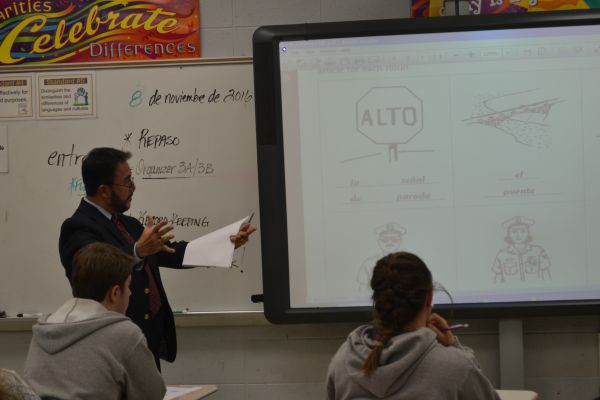 Teacher Spotlight: Mr. Sanchez's Bucket List Includes Recording CD with His Family
The school year of 2016-2017 marks the 32nd year that Mr. Jose Sanchez, a Central Spanish Teacher, has been devoted to instructing Central High students.
Mr. Sanchez was born in Brownsville, Brooklyn, New York, one of the most dangerous neighborhoods in Brooklyn.
"The worst of crimes happened in broad daylight; people were mugged, shot, stabbed, you name it, and it was a regular everyday occurrence," reminisced Sanchez. "Because Brooklyn was so dangerous my Dad, a Marine Korean War veteran, disciplined me and was very strict. It would have been so easy for me to stray onto the wrong path, but my Dad helped set and keep me in the right direction. Everything that I've done is to say 'Thank you' to my parents for what they have done for me."
However, in 1970, 13 year old Jose Sanchez moved to Puerto Rico due to his grandmother's cancer.
In Puerto Rico, he continued his education and graduated from Escuela Francisco Oller as the valedictorian of the class of 1975. He received many full-ride offers to many of Puerto Rico's colleges and universities. Sanchez conclusively decided to attend the University of Puerto Rico up until mid-college in 1977, when Sanchez transferred from the University of Puerto Rico to Tennessee Temple in order to attend a Christian school and to study from a Christian point of view. He was a pre-med student at the time of his transfer when he began realized that he thoroughly enjoyed school and being able to help others.
"When people told me to picture my self in ten years, I just couldn't picture myself in that sort of setting [in a hospital]. The thought of being unable to help someone just because they didn't have insurance did not sit well with me. Now days the medical field is more of a business than about saving people. It seems to be all about money; people have the cure, but do not openly use it to help those in need as that is not profitable," began Sanchez. "When I was in school and I had to give presentations and reports in front of people, it just seemed so natural to me. I was often put in the role of helping my peers. My teachers would call me out to help explain class material that my peers seemed to be struggling with, I was entrusted with grading papers and sometimes teachers even asked me to make tests at times for the class. In sixth grade, there was a field trip for role model students and we visited an upstate New York college where one of the professors told me that they could picture me as a professor teaching and playing with my mustache."
Sanchez enjoyed and obtained the highest grades in mathematics, sciences, and in foreign languages. He thoroughly enjoyed learning French and Greek. In addition to this irony, not only had Sanchez taught many levels Spanish, but has also taught Bible History, English, and a study skill class back when that was still a part of the curriculum.
Mr. Sanchez has taught at Tennessee Temple University for three years right after graduating from college, Chattanooga State, as well as University of Tennessee Chattanooga as an adjunct. Aside from his regular teaching job, Sanchez also tutors at Sylvan after certain schooldays in a variety of subjects.
Outside of school, Señor Sanchez has a strong passion for music. He is apart of the Music Ministry where he sings with his brother and sister-in-laws as well as his wife, speaks to youth groups, during the summer, at youth retreats, teaches at adult Sunday School at a Hispanic church, and also assists the pastor in any way that he can.
"In the back of my mind, I really am hoping to record at least a single CD with my brother and sister-in-law and my wife. We've been singing together for about 34 years, and many people have asked us whether we have recorded yet," exclaimed Señor Sanchez merrily. "My wife and I have been married for 35 years. I married her on D-Day on my graduation date. I literally got my diploma, took off my cap and gown, and took a plane over to Puerto Rico that same day to go get married to her."
With a Life verse of "Therefore, my dear brothers and sisters, stand firm. Let nothing move you. Always give yourselves fully to the work of the Lord, because you know that your labor in the Lord is not in vain," (I Corinthians 15:58) and daily mottos of: "You can't go wrong when thinking of others" and "Decide to make the difference," Sanchez lives life one day at a time.
"Life is too short to not enjoy everyday to the fullest. I do not know when it is, but if I were to suddenly die one day, I would be happy. I've lived a happy and content life so far," elaborates Sanchez. "My wife has blessed me with two wonderful children. I am proud of them. I live each day in the fullest to the best of my abilities and really do enjoy each day because everyday is different."
Sanchez is just as sentimental and thoughtful when it comes to his job of teaching.
"I try to not only teach students about Spanish alone, but also I try to give them guidance in life. I try to incorporate good studying habits into lessons. I really want to help guide my students in life," elucidated Sanchez. "It's a bonus when I see my students come up to me and speak of their accomplishments with such bliss. It really makes me happy."
Señor Sanchez's feelings have come across to many students who have to rely on him and trust him to not only educate them in foreign language, but also to help them through life.
"Mr.Sanchez is a very nice and approachable person. I feel comfortable talking to him as he not only is trust worthy, he also seems to be tight-lipped, keeping private things private unless the situation calls for the attention of certain people," commented a sophomore Spanish III student of Mr.Sanchez, Cheyenne Robinson. "Not only is he a good person in general, he also is a very good teacher. He is very explicit with his explanations of Spanish material and makes sure that every question is answered thoroughly. He gets things done and is very organized. I appreciate him."
"If there was only one thing that I could say to any person, whether I know them or not, I would say 'God loves you,'" conveyed Sanchez.