From Blackboards to Promethean Boards, Classroom Technology Continues to Evolve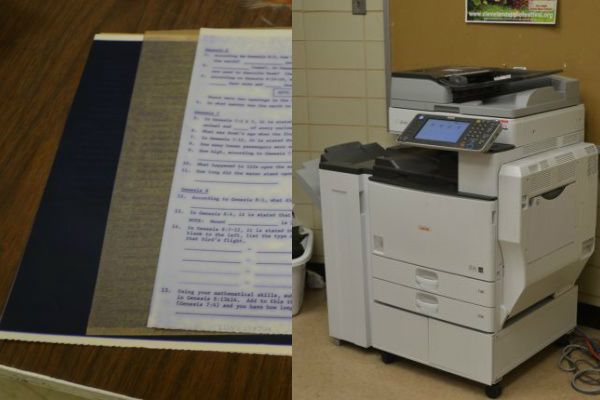 From the start of Central High School, on Highway 58, until present day, it is apparent that the role of technology in the classroom for teachers and student has changed greatly.
"Technology is making my job harder," stated Melinda Martin, the Central librarian. "Back then, the first libraries were not so automated. In fact, they didn't even have computers in the library; each book had a card in the back. When a student wanted to check out the book all I had to do was write down their name and keep the card. Once the student was done with the book and returned it, I would just put the card back in the book."
Technology has evolved greatly throughout the years in society, especially beginning in 2000. At Central however, students have only come into contact with a Chromebook, five years after its creation, and the iPad, six years after its first release.
"Although there are many benefits to the advancing technology, there are just as many risks," commented Martin. "The rate of technology advancement needs to slow down, or maybe we just need to unplug for a while. Too many adolescents and even adults in this day and age are glued to their screens."
Although there are teachers who agree with Mrs. Martin and wish for technology growth to slow down just enough to breathe in nature for once, others have a more positive outlook on technology.
"A lot of things have changed over the years," reminisced Central Spanish teacher, Mr. Jose Sanchez. "Technology has gone so far and is still continuing to thrive. All of this new technology is great, if used the right way."
Mr. Sanchez has been working at Central High School for 32 years and has witnessed many changes in the way that classrooms run to work with the new technology.
"I still remember the blackboard from when I first worked at Central," Sanchez began. "The blackboards were then replaced by overhead projectors, followed by the dry erase board. Concerning actual screens: following the dry erase board, was when I could connect my computer to my 25 inch TV to show my PowerPoint slides. That used to be the biggest thing back then, and the students really enjoyed learning things on the TV. Now we have the Promethean Boards, and I show my PowerPoints on a bigger screen, the students and I can also write directly on the board, and if I want to show the class movies or examples of music, I can just go onto YouTube instead of using vinyl records, cassettes, or CDs."
Some teachers try to incorporate technology into their lessons as society is quickly leaning towards smartphones and students are constantly on their phones.
"I usually ask my students to search things in class using their phones if we reference something that not everybody knows of, or just search for purely Spanish vocabulary," stated Sanchez.
"As wonderful as technology is now days, there are also many drawbacks to it that are just unavoidable in some cases," elucidates Sanchez. "The most obvious one would be that they can be distractions in class, but it's not just as simple as that. Many of the students these days have become completely reliant on technology, such as calculators, and do not actually learn the basic principles that technology now solves for us, the multiplication tables are one. Students seem to rely too much on their calculators and never actually learn their times tables."
Furthermore, with the introduction of technology, students seem to be less engaged with their teachers.
"Students do not ask many questions anymore because they believe that they can just go home later and Google it instead of asking a teacher. Setting aside classrooms, people seem to be in their own world as they are constantly looking at their phones. It seems like they don't know how to interact with one another anymore face to face. Texting language also infringes on a student's language; the texting language shortens and abbreviates many words, but now some students use this language in their school work. Although it may sound like proper English, it by no means is correct spelling and grammar," explained Sanchez.
Although the usage and rate of growth of technology is debatable among the staff members of Central High School, overall it is undeniable that technology will continue to be innovated, and that classrooms will either continue to move along with or be dragged by the technology advancement regardless of all personal opinions.