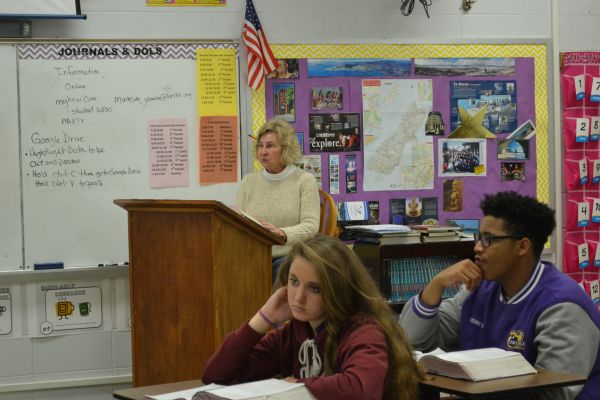 Teacher Spotlight: Coach Jan Munson Reflects on 25 Year Career
For Jan Munson, being in a school is her passion.
She graduated from Dobyns-Bennett High School and married shortly after. While married, she had one child, Susan Munson, who also attended and graduated from Dobyns-Bennett High School. Her daughter graduated from the University of Tennessee at Knoxville and now lives in Alcoa, where she works as a  Diagnostic Medical Sonographer.
Coach Munson started her college education while her daughter was in high school. Her daughter participated in track and field, cross country, and was the manager for the football team. While supporting Susan in her many endeavors, Coach Munson became fond of cross country and the high school atmosphere. Her major was in elementary education, but, upon her graduation from East Tennessee State University, she took an extra two semesters to get her endorsement to teach English at the high school level.
"I loved her commitment to making sure we got our lesson done everyday", said D'Andre Anderson, a student who had her freshman year.
One of her many inspirations to teach and coach was her daughter's coach Mr. Tom Coughenour. Coach Cougheneour had coached at Dobyns-Bennett High School for over 40 years and was inducted into the Tennessee Secondary Schools Athletic Association (TSSAA) Hall of Fame as a coach. He was selected Tennessee Cross Country Coach of the Year nine times.
"Tom Coughenour was such a great teacher and coach. Working with him just encouraged me to go ahead and teach high school," shared Coach Munson.
Coach Munson has taught for 25 years at five different schools, including Chattanooga Middle (8 years), Dobyns-Bennett (2 years), Red Bank Middle (2 years), and Central (2001-present).