All Central Seniors That Have Applied to a College Have Been Accepted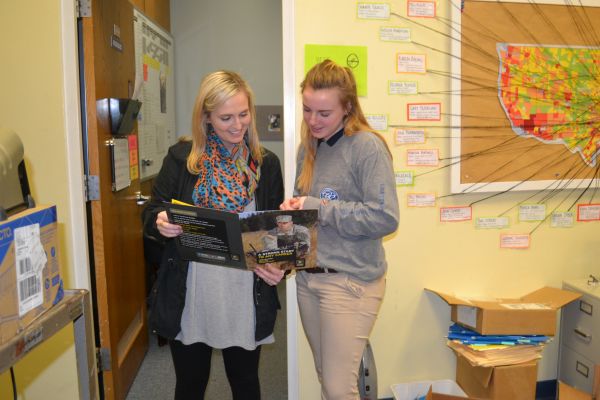 Graduation is a little more than three months away, and many of the seniors of Central are prepared for their college debut.
The recent statistics show that 100 percent of Central seniors this year have applied to a college and all seniors have been accepted into at least one college.
"This year, it has been made a requirement for seniors to apply to a college," explained Mrs. Susan Dyer, Central's College Access Advisor. "Honors students are required to apply for at least two colleges, one of which is Chattanooga State, while other students are only required to apply to one college. Their college applications count towards their English grade. If the student does not apply for the set number of colleges, of their choice, then they receive a zero in their English class."
"For me, applying for college wasn't hard, it was just a matter of which college was the right one," commented senior student and co-salutatorian, Tetyana Arkushenko.
Recent statistics have also revealed that 95 percent of the seniors have set up their Free Application for Federal Student Aid (FAFSA). This makes Central High School second in Hamilton County for having the most seniors fill out their FAFSA.
"By applying for FAFSA, a student automatically qualifies for the Hope Scholarship, if they have at least a 3.0 GPA or a score of 21 on the ACT, and the Pell Grant if the student's financial situation qualifies them for the grant along with any other federal scholarships," stated Dyer. "This is significant because the Hope Scholarship alone gives you $4,000 a year in scholarship money, and you can receive up to $5,000 from the Pell Grant, if you qualify.
"I think the reason why so many parents struggle with FAFSA is not because it is overly complicated, but because they fear that what ever they write down will affect their child's ability and qualification for any sort of financial aid."
Not only have 95 percent of seniors signed up for FAFSA, 100 percent for at least one college, and 100 percent of the seniors been accepted into a college, but also 100 percent of seniors have also signed up for the Tennessee Promise.
"The Tennessee Promise is a last dollar scholarship that provides the opportunity for every Tennessee high school student to earn a post-secondary credential. This also applies to students who complete a GED or A HiSET prior to their 19th birthday. The Tennessee Promise gives students two years of free college tuition at a junior college," elucidated Dyer. "A Junior College is a two-year college, like Chattanooga State, where students can get their basic or general classes done and later transfer to a university."
Before talking about college, it is essential that the senior graduates for high school, although this year, this is not as prominent of a problem.
"For some students who graduate high school, and do not apply for a college or do not get accepted into a college, we try to urge them to go to any sort of education past high school, but some students are set on joining the military, which is fine. Other students either had the intention of going straight to work after high school or just end up being forced to go to work right after high school," explained Lindsey Ruggles, the Senior Class Advisor. "For seniors who are over 17 and their situation obviously shows that they can not graduate from Central, we try to get these students to an adult high school, which is more flexible with graduation requirements."
For students who have applied for college, it is just a matter of choosing which college to attend, waiting for colleges of their preference to reply, or they are already set for college.
"I have applied for four colleges in total: Lee University, UTC [the University of Tennessee at Chattanooga], Chattanooga State, and Cleveland State. I have been accepted to all of those colleges, and now it is just a matter of choosing which college seems the best for me," stated Arkushenko. "I am majoring in Child and Family Studies."
Although these achievements were of the seniors, they could not have done it alone.
"Mrs. Dyer really helped me, I can come up to her and she'll sit down with me and take me step-by-step through my problems. If I have any questions she just calls up the college in question right then and there," exclaimed Arkushenko.
"Mrs. Ruggles helped make sure that I met all of the deadlines for scholarships and applications," concluded Chase France. "The process of applying for college has mostly been smooth sailing for me. I have been accepted into all of the colleges that I have applied for, and am planning on majoring in Nuclear Engineering."