Feist is Valedictorian; Arkushenko and Snakenberg Co-Salutatorians for Class of 2017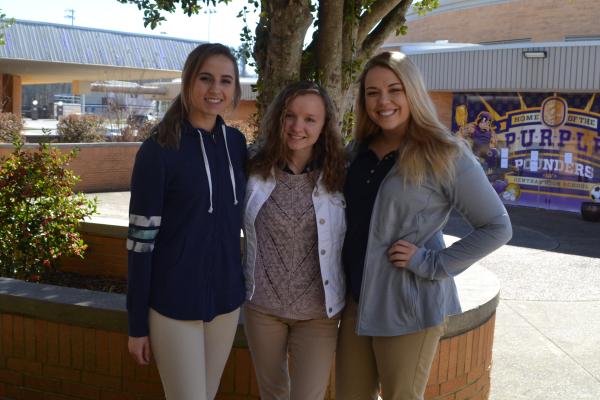 Hang on for a minute...we're trying to find some more stories you might like.
Four years of studying, problem solving, and the will to prosper has finally paid off for three Central seniors as the Class of 2017's highest academic honor students were released by Principal Finley King. Emily Feist was named valedictorian of the class of 2017, while Avionne Snakenberg and Tetyana Arkushenko both received the title of co-salutatorian for the graduating class.
"It feels fantastic and rewarding to be the top student at Central!" admitted Emily Feist. "I truly feel honored."
Feist plans on attending Carson-Newman University with a major in Biochemistry and a minor in math. She plans to become a pediatrician after college, and is very pleased with her school achievements in past years.
"It was good to officially confirm that all my hard work paid off," Feist stated. "Once I start something, I put 100% into it."
Feist made a 27 on her ACT test and has a 4.0 GPA, but her road to success was not easy. She gives credit to her parents for helping her study and make a commitment to her education, and is grateful for social studies/leadership administrator Duncan Kelley, math teacher Edward Potter, and chemistry teacher Brielle Farrow's help and support throughout the years.
"What I'll cherish most about my time here at Central is not the academic side of it, but the football games I attended, hanging out with my friends, and the fun side of things," Feist reveals. "If I could pass on a message to my younger self, it would be to keep on doing what I'm doing."
Salutatorian Avionne Snakenberg plans to attend an honors program at UTC to pursue a career in nursing. Snakenberg was happy with her school ranking, although she was hoping to be valedictorian. Snakenburg made a 28 on her ACT as well as maintaining a 4.0 GPA, and will remember her years at Central as the time she made a lot of friends, alongside her two sisters, Jadyn Snakenberg, Central's Class of 2016 Valedictorian, and Celisia Snakenberg, a current sophomore at Central.
"My advice to those who want to succeed in school is to stay focused, and do your best. Don't stress yourself too much," advised Snakenberg. "Anyone who is stressed or obsessed with grades should try to spend more time being a well-rounded individual, because you don't want to only excel academically."
Tetyana Arkushenko was shocked and overjoyed when Principal Finley King announced that she was also salutatorian over the intercom. She has maintained a 4.0 GPA over the last four years, along with a 24 on her ACT. She plans to attend either Lee University or UTC to pursue a degree in Child and Family Studies, with an Early Childhood major.
"I definitely wouldn't have been able to do it without the help of God and the encouragement and support of my family. I can honestly say that I have prayed before every test. God has given me the wisdom in everything that I do in life, especially school. I would be nowhere without the encouragement my family gives me to strive beyond the limits," Arkushenko admitted.
Throughout her time here at Central, Arkushenko has learned to make positive memories, and be friends with everyone around her.
"I have enjoyed my time here at Central, and who would have known that such a short amount of time could create so many memories? Central has shaped me into a better version of myself," Arkushenko concluded, "I have learned to be dependable, responsible and, overall, a happier person."
We congratulate this year's top three students, and wish them the best of luck as they pursue their dreams in the future, showing the true spirit of Central Pounders.

About the Contributor
DayOnna Carson, Editor-in-Chief
My name is DayOnna Carson, and this is my fourth year being on the Central Digest! I love reading and making stories of my own, so I am glad I got the...