Alexis Keohavong is Queen, Jared Eddy is King of '17 Military Ball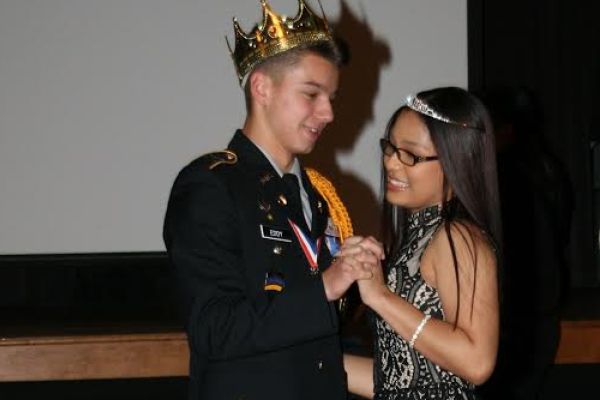 The Army JROTC program here at Central recently had a military ball to celebrate this year's success. With the end of the school year rapidly approaching, the military ball was a great way to have fun with other cadets. The night was very exciting and one most people will not forget. There were refreshments, music, and a ceremony to acknowledge the seniors and military king and queen, Jared Eddy and Alexis Keohavong.
Jared Eddy, a senior, was chosen by popular vote as military king. His rank is Lieutenant Colonel.
"I have been in JROTC for 4 years. I chose this program instead of Wellness as a freshman because I wanted to be on the raider team, and you have to be in JROTC to be on the team. It also seemed really interesting and the uniforms were cool," explained Eddy.
"When I won the title of military ball king, it felt amazing because Alexis and I have been in JROTC for years together. I couldn't believe it. It was a good experience," he commented.
"It was an honor to receive and I'd like to thank the cadets."
Alexis Keohavong, a senior, shared similar thoughts about the night. Her rank is Major.
"I have been in JROTC for 4 years to. I always wanted to join the military and being in it would prepare me," she retold.
"When I won, I felt surprised and happy. I was shocked because I don't communicate with or know a lot of cadets, but it was an honor," she said.
About the Contributor
Victoria Dutilly, Staff Writer
Hi, my name is Victoria Dutilly, and I am a freshman at Central High School. My favorite hobbies are reading, writing, and having fun! I am really excited...