Psychology Teacher Tina Staton Has Made Differences in Central Students for 25 Years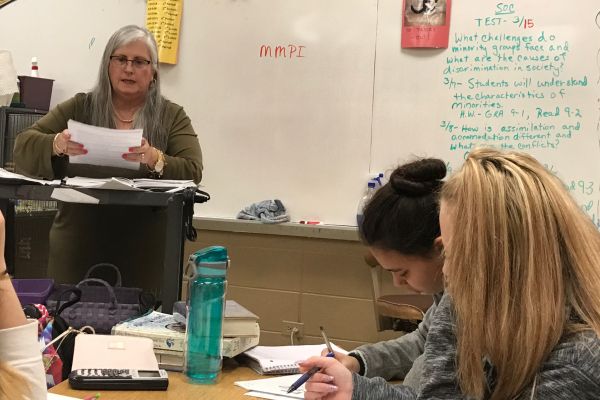 "Making my students feel accomplished and who are proud and like themselves" is the mindset that sociology and psychology teacher Tina Staton  has held every day while teaching at Central High School for the past 25 years.
Graduating from City High School in 1971, Staton always had a passion for teaching.
"I went to the University of Tennessee at Chattanooga and got my graduate then I got my masters at Tusculum University," said Staton.
While in college, Staton fell in love with the psychological minds of Freud and other great psychologists and decided to teach that subject when she earned her degree. Although, psychology is Staton's favorite, it is not the only subject that the veteran educator has taught. She also taught history previously and even was the head of the Social Studies Department when she taught at Boyd Buchanan for 10 years.
"The funny thing was I hated history in high school, but I told myself that when I was in college that I would love it —  and I really did by the time I was teaching it for a living. But overall psychology was my favorite," she added.
Before Staton taught at Central, she first began her teaching career as a history teacher at Boyd Buchanan. By the time her daughter Erin was about to graduate from high school in 2000, she decided to be closer to her by working at the school she was attending, which was Central.
"If I could describe Central in one word it would be 'awesome.' There are so many positive things about Central. The students, the faculty, the administrators are just amazing people. The teachers look towards the focus of the students and that is what teaching is all about. To help students become successful and better than they were yesterday," Staton explained.
This year Mrs. Staton has been busy teaching psychology, AP Psychology, and sociology every day, but no matter the class or the grade level, students agree that Staton puts the students first. They also agree that she makes them better students.
"She is kind of like an academic coach. She wants us to learn from our mistakes and to get better everyday and that is what every teacher should live by," said junior Cassidy Simms, a student in AP Psychology. "She helps us not only in our class but also in preparing us for college. She pushes us past the limits we thought we had."
When she is not busy teaching, Mrs. Staton is often off on international field trips with students and has recently visited England, Scotland, Germany, France and many other exciting locations.