Central Digest Named a SNO National Website of Distinction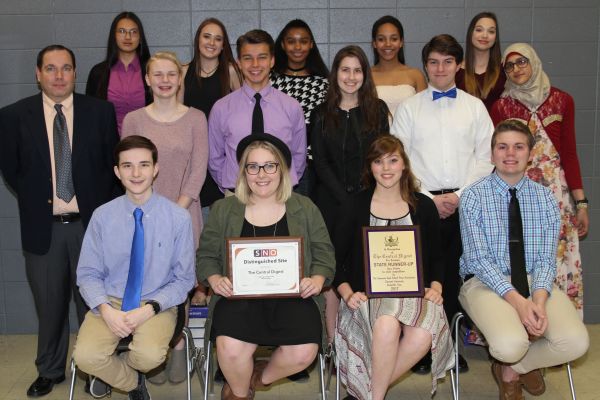 For over a 100 years, the Central Digest has been the #1 source of news and student life at Chattanooga Central High School. Whether that be from the decades worth of print editions or from the sixth edition of the online version, the Central Digest has always strived for journalistic excellence and integrity. While this year the newspaper won second place with the Tennessee High School Press Association for best overall website, the Central Digest has been proud to be named a Student Newspapers Online (SNO) Website of Distinction.
"After only placing second in the state competition, the [Website of Distinction] award gave us redemption for our accomplishments," explained English 11 instructor and journalism adviser Gregory Cantrell.
As of early April, there are about 15 high school journalism programs from across the United States that have received the honor. The Central Digest is lucky enough to have been the first and only current program in the state of Tennessee to be honored.
"Distinguished Sites was launched in 2015, this is our third year running the program, and 27 sites won the award last year," recalled Abby Anderson, who works for SNO and distributes the distinguished website badges.
In order to receive the national award, websites must quality for six badges: Continuous Coverage, Site Excellence, Story Page Excellence, Excellence in Writing, Multimedia, and Audience Engagement. Each badge has specific requirements that must met to receive it.
"Our hope is that program participation continues to grow, as it has each year. The purpose of the Distinguished Sites program is to provide a rubric for standards of excellence in online scholastic and collegiate journalism. By participating in the program, newspaper staff learn best practices, and these practices become standard operating procedure as staff seek to earn badges. That is, after all, our sneaky goal: to help students build really great websites, and to use best practices as a matter of course. Recognizing the great work you all do is a bonus!" explained Anderson. "As standards for online journalism continue to evolve, so will the Distinguished Sites program evolve, and that's exciting and awesome."
The Central Digest is very proud of their accomplishments throughout this school year, and is hopeful for more accomplishments to come.