Teacher Spotlight: Mr. Gary Fomby Continues His Passion in Science Education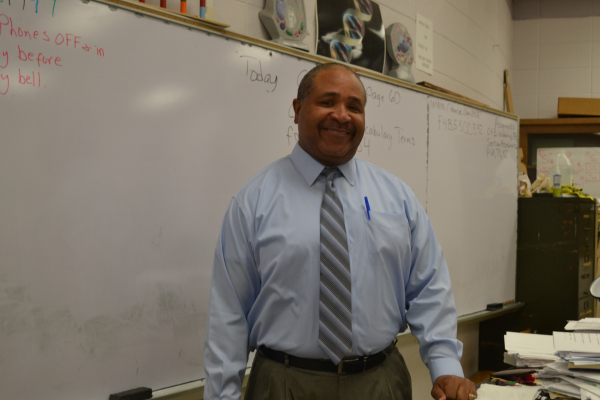 A key component of teaching is assisting students in developing practical skills for the future, and biology instructor Gary Fomby strives to do just that. As an attendee of an Alabama high school, Fomby developed a passion for leading others to success.
"We had very demanding and caring teachers," Fomby divulged. "They taught us the importance studying to better ourselves and self-discipline. This is where the seed was planted within me to help others through the wonderful world of education."
Expanding knowledge, as well as sharing it, has always been an integral part of Fomby's lifestyle. He has been immersed the education field for 28 years, having taught a variety of science subjects included in middle and high school curriculums.  In class, he engages students by applying science concepts to real life, and by helping them build off of prior knowledge.
"Mr. Fomby is serious about putting forth a good education for his students. He doesn't play around, he means business," commented freshman Indya Padilla, who takes his biology class.
"Life experiences will always be the best teacher you will ever have. I try to get students to see that in order to learn you have become part of the experience. That means get involved, learn the basics and remember what you see and experience daily," Fomby elaborated. "Most of what you do every day involves science, bring that along with you and enjoy the learning process."
Fomby's students learn to maintain effective study habits and practice self-accountability. This better prepares them for college, where there is less guidance. In his biology classes, students also conduct investigations such as dissecting the DNA of a banana and using microscopes to identify plant cells.
"Mr. Fomby gives interesting facts while we're taking notes, and I've learned a lot in his class," commented freshman Cassandra Castillo, who is also enrolled in his biology course.
"If there is one thing to take with you throughout life, it is to never stop learning no matter where you find yourself," encouraged Fomby.
About the Contributor
DayOnna Carson, Editor-in-Chief
My name is DayOnna Carson, and this is my fourth year being on the Central Digest! I love reading and making stories of my own, so I am glad I got the...