Beloved Central Teacher Donna Sellers Is Retiring After 32 Years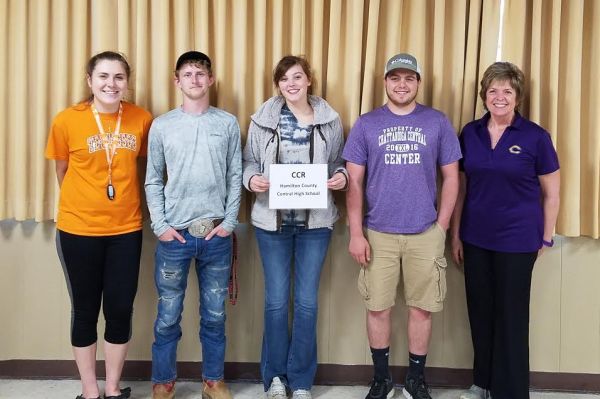 Seniors are not the only ones saying goodbye to Central High School this 2017 school year. One of Central High's most beloved science teachers, Mrs. Donna Sellers, will conclude her teaching career at the end of this school year.
In 1969, Sellers gradated from Grundy County High School before attending Freed-Hardeman University, where she acquired her associate degree, and Harding University, where she graduated in 1973 with a bachelor's degree. Throughout high school, Sellers was an avid math student, and she originally went to college with the idea that she would return to her alma-mater and teach math.
Though, this quickly changed during her freshman year of college.
"I had the most boring math teacher ever my freshman year and the most interesting biology teacher named Dr. Tucker. He was very cool, and I discovered I had a knack for remembering and understanding all about the living world. I made my first of two C's in college in that math class and made an A in biology. I figured I had chosen the wrong major, so I switched majors and never looked back," recollected Sellers.
Sellers did not start teaching right out of college. Though she was certified to teach general science and biology, her first jobs were in the medical field. She first worked as a lab technician at the Houston Allergy Clinic in Texas, then worked as a nuclear medical technician at the Veteran's Affairs Hospital in Houston, and finally worked as a medical assistant to a doctor in a private practice in Houston. After relocating to Altamont, Tennessee, she discovered that there were no nuclear medical tech jobs. She started her first teaching job at North Elementary School, teaching seventh and eighth grade science, English, reading, and sixth grade English. Other than taking time off after having children, she has been teaching ever since!
Sellers came to Chattanooga in the fall of '92 and spent some time as a substitute teacher at Ooltewah Middle School and Ooltewah High School. After notably losing a week-long subbing job at Central due to the Blizzard of '93, other subbing positions opened up at Central. She applied for a teaching position, for the next school year, after a teacher unexpectedly left, and Central High School's principal, Mr. Preston, hired Sellers. She taught for the last nine weeks of that school year, and has been teaching at Central ever since.
"I love realizing that I have been able to teach students about how the living world works so they have a new perspective on everyday things like muscle cramps, why the leaves turn colors, and where food really comes from. My favorite Bible verse is, "In the beginning, God created the heavens and the earth," and I think the earth is an amazing, complex entity. Knowing about it and the fascinating way creatures and humans actually live and function is pretty amazing stuff in my book," shared Sellers, regarding her love of teaching.
After 24 years of teaching as a proud Central Pounder, Sellers has determined that is time to close this chapter of her life. She debated retiring last year, but felt the time was not right. She spent one more year at Central and decided the time was right.
"Older teachers always told me that when it was time, I would know it. I toyed with the idea last year, but it just wasn't right feeling, so I taught again this year. Now I am positive I am ready. I know you all won't understand this, but the cell phones have pushed me over the edge very dramatically. I compare the attention and effort of students in past years to most today, and I see a huge difference. I know they are not putting forth the effort to learn anything. There are exceptions, of course, but so many in my classroom are just distracted, and I take it personally. I am tired of saying "pay attention" or "obey the rules, and put it away." I should not have to be a device police, I am a teacher with lots to share, and it is very frustrating. Retirement looks good from that standpoint," admitted Sellers.
With her love of being outdoors, Sellers will be spending her new-found free time working on some yard-work, in addition to checking out all the golf courses in the area. She wants to travel to all the United States, as there are a few states out west she has yet to visit, read some interesting books, and visit her children more often.
"[I will miss] my co-workers who are also my friends whom I get to see every day. I know we will eventually drift somewhat apart, and I don't like that. Retirees really have to work at keeping co-worker friends and that is sad to me," admitted Sellers. "I will miss the students who are eager to learn, though I can't say I will miss the stragglers. I will miss inspiring you all to love science, for sure! I will not miss grading papers!"
Mrs. Sellers has spent 32 years inspiring students and she will certainly be missed. Hannah Holmberg, a senior at Central who is also closing this chapter, has spent lots of time in Mrs. Sellers's classroom, from Anatomy and Physiology to AP Biology; she will miss her dearly.
"Mrs. Sellers has really shaped by high school career. She has taught me that you don't have to love one career your whole life, and she has inspired me to know as much as I can about everything. I love that she is always excited and happy about what she is teaching. I will miss her lively attitude and wise words," shared Holmberg.
"I will close out my career with many memories and having made many life-long friends with students that have truly enriched my life. I know I will never know what influence I have had on many, but the few who tell me later how I inspired them makes all the late night grading and worry about lessons all worthwhile. I put a quote into my dedicatory speech that I think applies here…"To laugh often and much; to win the respect of intelligent people and the affection of children; to leave the world a better place; to know even one life has breathed easier because you have lived…this is to have succeeded" (Ralph Waldo Emerson). I hope I have succeeded."