Retiring Central Spanish Teacher, Señor Tony Socarras, Says Final "Adios!"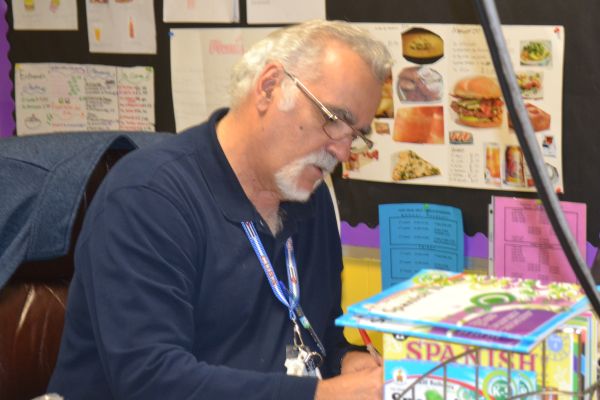 For ten years, Señor Tony Socarras has had the joy of teaching high school students the building blocks of the Spanish language through his Spanish I and II classes. While many students continue to love his teaching, Socarras has decided to retire at the end of this school year.
"I received my Bachelor of Fine Arts from Florida International University and obtained my Alternative Teaching License at the University of Tennessee Chattanooga. This is my tenth year teaching Spanish, and I taught at Brainerd High School for four years before coming to Central. For the first three years, I was half-time here [at Central] and half-time at Brown Middle," stated Socarras.
While teaching for only ten years may sound like a career cut short, Señor Socarras's life has been very action packed and adventurous.
"I was first a full-time bassist in Miami where I performed with numerous groups and artists both in the Hispanic and Anglo worlds. I then started on the international trade field by doing everything from loading cargo in the belly of airplanes to being a controller at Olem Shoe Corporation, a major footwear importer and wholesaler," recalled Socarras. "When we moved to Chattanooga ten years ago, I decided that I wanted to be on the same schedule as my wife, who is a 5th grade teacher, and it was the best decision I could have made."
Nevertheless, Socarras will be missed by many of his current and former students.
"Señor Socarras has helped my Spanish improve over the years and is one of my favorite teachers of Central High School. I will miss having his class," explained junior John Britt, who was taught Spanish I and II by Señor Socarras.
"[My favorite memory of teaching is] the feedback from those students who really understand and appreciate what an education is all about. Also, the performances at the Faculty Talent Show I will always cherish," commented Socarras.
"Socarras is the perfect example of a teacher who loves to see his students go further," explained Britt.
"[What I will miss is the most is] the comradery amongst the staff, the students who are wanting to earn, and of course, "mi hermano," José Sánchez. I will also miss my impromptu Spanish classes in the Teacher's Lounge and last but not least, the rehearsals with Mickey (Mr. Robinson), Phil (Mr. Johnson), José (Mr. Sanchez), and Mr. Jones," elucidated Socarras.
Señor Socarras's hardwork and passion for teaching will be truly missed at Central High School. Learning a foreign language and becoming a bilingual individual can change a person's entire perspective on their life forever. Señor Socarras has gifted many students with that ability.
"I would like to thank all who made my years at Central an experience that I will never forget!" concluded Socarras.