Sergeant Major David Lewis Is Retiring After 17 Years of JROTC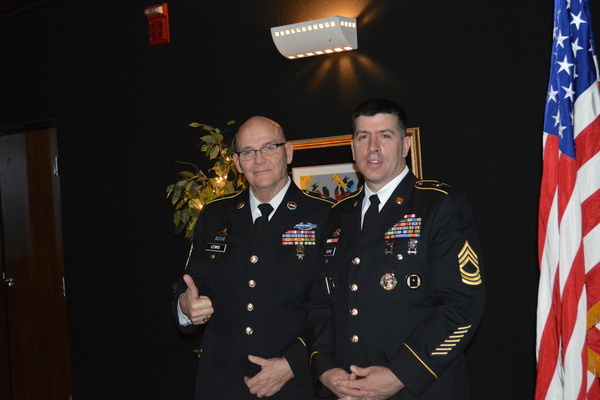 Sergeant Major Lewis became interested in JROTC 18 years ago, and he just knew that it was something he wanted to be involved in.
"I was curious and wanted to try it out, it has been in my heart and I am very passionate about it. I was still in the army then, and when I retired from the army I 17 years ago I decided to become a JROTC Instructor. I arrived at Central a few years later, and met Lieutenant Colonel [Bill] Brooks and Master Sergeant, and I started from there."
Sergeant Major exclaimed that the best part about the program is the cadets.
"They are just wonderful, when I walked through those doors years ago the students crowded around me wondering who I was. I had to be ready, meaning I had to keep an open mind and stay positive throughout. Every morning I say a quick prayer that today is going to be a good day and I always try to make the cadets smile."
Sergeant Major Lewis said that he learned a very valuable thing. He justified that the youth of America is not as bad as the media says it is. He claimed that there are good people who come from many different backgrounds and can still make good impressions. He also noted that the students are very hard working and productive. There has been many superb students that have done very excellent things. In this environment, even though the students are different they all get along very well.
"It is all confrontational and the cadets do exceedingly well with each other. In my opinion, it is magnificent for the Let ones, they come in all shy and not knowing what to do, but that is just fine and dandy. However, when it comes time for their next year, they have grown confidence and the cadets will want to be a leader."
Sergeant Major sends his regards and wishes everyone well; the advice he gives to the cadets is for them to just be themselves. Lastly, he mentioned that he wanted the cadets to shoot for the moon and aim high.
"Do not settle for something simple, when you set your goals, set them high so when you reach them you can be very proud. Push yourself because there will be lots of opportunities out there for you, so try new things, stay confident. It has been a delightful couple of years, and I am proud to say that I enjoy the cadets and everything Lieutenant Colonel Brooks and Master Sergeant have done for me."
Lieutenant Colonel Bill Brooks, one of Sergeant Majors' dearest friends, shared some memories about them.
"The turn around of this program was my favorite memory with him. The JROTC program was a mess when it was introduced to Central. Sergeant Major and I helped improve the program to make it what it is now. Our cadets are very successful students. We have produced a quality program," explained Brooks.
Brooks commented that Sergeant Major Lewis always has compassion and cares for the cadets like his children. He is a man of  high integrity. He embodies what we teach here and sets the example.
Brooks went on into detail about how much Sergeant Major contributed to this program.
"He takes initiative and he helps improve the program so it doesn't get stale. Each year we sit down and look for improvements and make changes. Students also make suggestions because sometimes they notice things and we do not," Brooks said.
"He has given me a lot of advice. We have been here for 10 years, and he helped me because he had taught at Red Bank before he came to Central. He makes helpful recommendations and we almost always agree. By helping make this program successful he has also helped get this program noticed. Every year we either get Mr. and Mrs. Central or prom king and queen. We have had 16 students graduate with 3.6. This to me, is the biggest part on moving forward because without him it would not be like this."
Brooks goes on to say thank you to Sergeant Major Lewis, for everything that he has done for the program and for Master Sergeant and himself. He is a friend and will always be like family to me.
Lastly, Brooks added that he will continue looking forward to playing golf with him and that he hopes Sergeant Major continues to be the great man that he is now.
One of the cadets, Ashlan Miller, also sends her good wishes to him as well, she goes on to say,
"Sergeant Major is just magnificent, he has changed many people's life and that I am sure about. He really is special, has a very kind heart and he loves everyone. Always optimistic and filled with enthusiasm Sergeant Major is a great leader and you can always depend on him. Also, I would love to say that  he is canny and sweet. In hard times no matter the situation he is always there for me and anyone else who needs a shoulder to lean on, he is like a grandfather to me."
Ashlan also voiced that she is very emotional and upset for his departure, however, Sergeant Major has been through a lot with is knee giving him troubles and having to get a lot of surgeries.
"He is a fighter, he really is, he is very strong and will always be in our hearts. I am sad to see him go but, I have had some really fun memories with him and I wish him the best."
In conclusion Sergeant major will be dearly missed by everyone and as Fred Rogers once said,
"If only you could sense how important you are to the lives of those you meet; how important you can be to people you may never even dream of. There is something of yourself that you leave with in every meeting with another person."