Summer Fire Leaves E-Pod Teachers Scrambling for the Start of School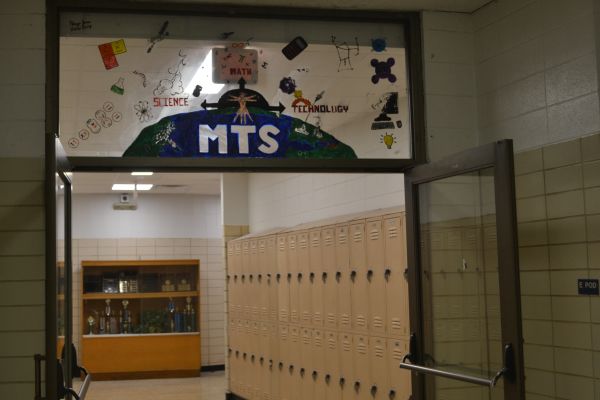 While summer is definitely a hot season, it usually does not involve the kind of heat that melts televisions. However, this is exactly what happened in E-pod at Central High School on June 1.
For Mr. Edward Potter, a math teacher, it all began with a text message.
"I thought it was a prank," he admitted.
The fire started in Mr. Potter's new classroom, possibly because of the old ovens that were previously used for home economics classes. He was moved over the summer from a room near the gym to a room in E-pod.
"The room was almost a total loss," Mr. Potter stated.
All of the contents of the room had to be removed, including a completely melted Channel One TV, as nothing survived the fire.
"I'm glad that it was my room that was damaged, because I was the only one whose stuff wasn't in their classroom. I moved rooms so all my materials were in storage. If it had been anybody else, they would have lost everything," Mr. Potter expressed.
A lot of work has been put into the room to make it usable again. The ceiling and floors were both replaced, the walls were scrubbed and painted, and electric and duct work had to be redone. According to Mr. Potter, "Things are coming along, but they're not done." He is still waiting on a functional back door and a new dry erase board.
As for the other rooms in E-pod, there was no direct fire damage, only smoke damage. However, somewhat extensive work was still done before teachers and students could move back in. Just like in Mr. Potter's room, everything was removed.
The ceilings, ductwork, and lights were replaced, the walls were painted, and the floors were cleaned.
"
"It was like How the Grinch Stole Christmas; everything was gone,"
— Ms. Tina Cotreau
Unfortunately, in the process of renovation some things were lost, broken, or even thrown out because they were thought to be damaged and these items were later found in the dumpster. Thankfully, some things were salvaged such as a few Promethean boards. Others were not so lucky; one casualty was Ms. Cotreau's skeleton, which could not be replaced or found.
"It was like How the Grinch Stole Christmas; everything was gone," Ms. Tina Cotreau, a biology teacher, joked.
"After a couple months we're somewhat back to normal now, but we're still missing some things that we're working on getting replaced," Mrs. Brielle Farrow, a chemistry teacher, said.
The other E-pod teachers are also waiting for supplies, technology, working phones, and wi-fi.
In the midst of that, the challenge is also getting everything back in order.
"We have all spent many hours trying to put everything back," Ms. Cotreau accounted.
"It has been insane. It was taking 50 years worth of stuff out and now having to put it all back," Mrs. Farrow affirmed.
Although this situation has been difficult to say the least, Mrs. Farrow was quick to praise our school for helping out.
"Leadership and AP students, along with people all over our school, have helped and made it bearable," she explained.
"We're struggling but surviving," she concluded with a smile.