Central High Collects 623 Pounds of Peanut Butter and Jelly to Win Food Bank Bowl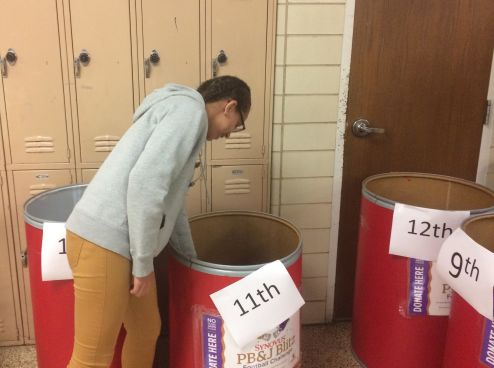 Last month, Hurricane Harvey touched many cities in Texas causing mass destruction from flooding. More than 50 inches of rain fell down on some cities causing cars to be covered in water and homes to be destroyed. Families had to flee to their roofs to get help, others walking around in the flooded streets to find help for their families or to help those in need.
This past week, the school was taking donations of peanut butter and jelly for the Peanut Butter and Jelly Bowl to help victims of Hurricane Harvey, and to compete against East Hamilton High School to see who could collect more. Students who brought in peanut butter and/or jelly received a dress down pass for the following Friday. English 11 teachers, Mr. Mallory and Mr. Cantrell, gave students who brought peanut butter and jelly extra credit points, so their students got a dress down day and extra credit for their grade.
Some students just brought their donations to earn the dress down and ditch the dress code for a day, but for some students it was clear why the school was taking the donations. People needed help, and students like Alexis Massengale and Destiny McCoy saw that.
"It's not just about the dress down pass. It's about helping those in need, and I want to help those affected by the hurricane," voiced junior Alexis Massengale.
"Even though I don't particularly like people, I brought in my donations to help the victims that didn't evacuate Texas during and after the storm. Although it would be cool to beat East Hamilton too," said junior Destiny McCoy.
The competition lasted one week, and Central collected 623 pounds compared to East Hamilton's 270 pounds of peanut butter and jelly, making us the winner of the Peanut Butter and Jelly Bowl.
About the Contributor
Kaylee York, Staff Writer
Hi! My name is Kaylee, and I am a senior here at Central. My hobbies include reading and writing, and I am also a part of the Central Sound of Chattanooga's...