Fantasmic!: Central Sound of Chattanooga Marching Band Excites the Crowd with the Music of Disney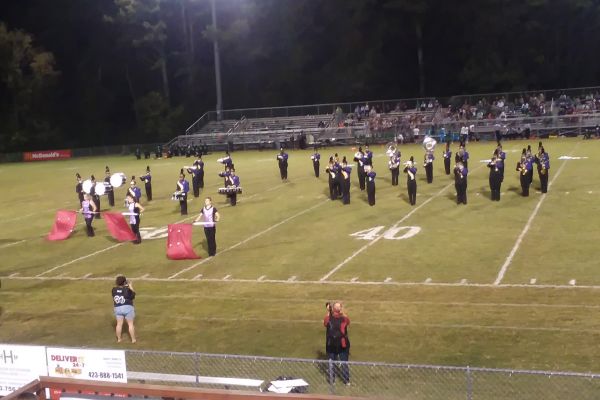 Each fall, The Central Sound of Chattanooga Marching Band hosts a very interesting halftime show after the second quarter of Central's football games.
This year, the Central Sound is doing a show called Fantasmic! This show features the music of Disney. This show was chosen because the band is going on a trip to Disney in March.
The band has a lot of practice during the week. Mr. Bloodworth, Central's Director of Bands, stated, " [The Central Sound Marching Band] practices on Mondays, Tuesdays, Thursdays each week after school from  2:30 to 5:00."
With halftime lasting for twenty minutes, the bands have to be on and off the field in ten minutes so that the teams have time to stretch before the third quarter starts. If another school's band is present, they also have ten minutes to perform their music.
During this year's halftime show the Central Sound of Chattanooga will perform four different songs, these include: "Fantasmic!," "Part of Your World" from The Little Mermaid, "Beauty and the Beast" from Beauty and the Beast, "Pirates of the Caribbean Theme" from Pirates of Caribbean, and "How Far I'll Go" from Moana.
There are some things that are difficult to do during a halftime show. One of the most difficult things that stop the halftime show from being the best it can be, is keeping all the parts and music lined up so that each person knows what song is going to be played next. Some of the most astonishing moments in each halftime show, however, are the shapes depictions that are made on the field by the band.
With participating in marching band, comes challenges that need practice. Conducting, even though how simple it may seem, requires practice. Each season, the marching band is not only under supervision of the band director, but also under the direction of a Drum Major. The Drum Major conducts the band while they perform their music.
This season, the Central Sound of Chattanooga is under the field direction of Drum Major Georgia Teems.
"It takes a lot of practice to keep everyone on line with everything that the band does. Being a drum major is something that you practice everyday," concluded Teems.