Seniors Are Preparing For Free ACT Retake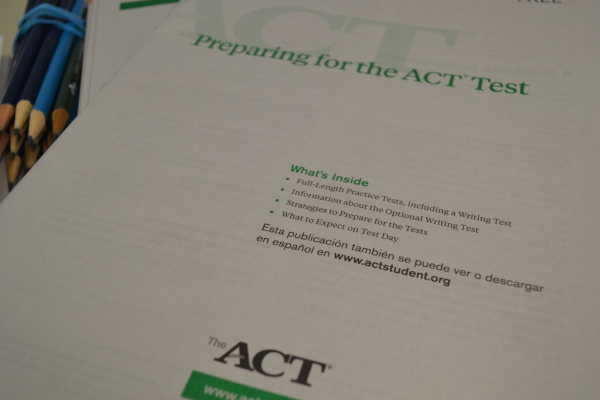 This October, all high school seniors have the opportunity to retake the ACT test for free. The Tennessee Department of Education has provided every senior across the state with a free waiver so that they will not have to pay out of pocket for the examination.
In order for students to receive their high school diploma, they must complete the ACT test. The ACT evaluates the college readiness of students, which explains why the test is so important to the state. This evaluation gives each individual an idea of how well they would perform in a college environment, and covers multiple standards that are significant to many colleges and universities. Although most students get the chance to take the ACT as juniors, October 3 and October 17 are the set test dates for this year's retake.
In preparation for the assessment, Math Teacher James Snyder and Curriculum Coach Elisabeth Zachary have formed an after-school ACT preparation class. Mr. Snyder will focus on mathematics, while Mrs. Zachary plans to put emphasis on the English-Language Arts and Reading portions of the test. It has been noted that 45 students signed up for the class, which began this Tuesday.
"Regardless of students' current scores, we are looking to offer strategies to improve their score," Mr. Snyder divulged. "The ACT is a necessary accepted assessment used to describe students with college ready skills."
The ACT prep class lasts from 2:30 to 4:00, and it will continue until Thursday this week. The final meeting will occur next Monday in order to give students time to study independently.
"Mr. Snyder and Mrs. Zachary are doing a fantastic job with prepping students for the ACT by using multiple ACT books in each subject. It also helps that there are classes up until the day before the ACT," revealed Senior Saige Lowery.
The class is intended to help inform students with effective tips and tricks, and increase their chances of acing the examination through guiding students through the whole process.
"If you haven't taken the ACT before, this class is really good because you'll get to learn some beneficial test taking skills," commented Senior Adrianna Quientana.
On average, students usually achieve a seven point improvement from their previous score, but that number may vary as a result of several other factors. Most importantly, students are using all of the resource materials that are available to them so that they can take advantage of this great opportunity.
About the Contributor
DayOnna Carson, Editor-in-Chief
My name is DayOnna Carson, and this is my fourth year being on the Central Digest! I love reading and making stories of my own, so I am glad I got the...