Community Questions Bus Safety In Remembrance of the Woodmore Crash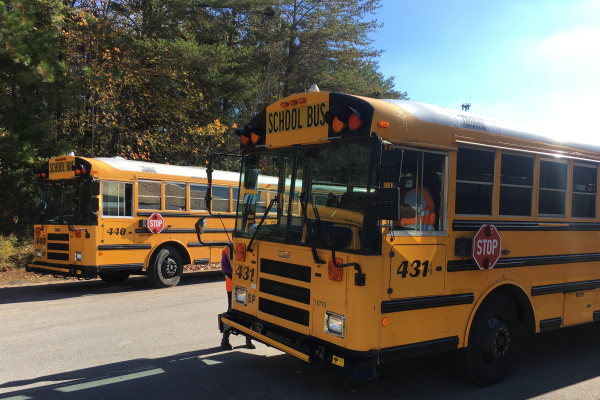 November 21 will mark a year since the deadly bus crash that claimed the lives of six Woodmore Elementary students. It has taken the community some time to recover from the horrific incident, and has led many citizens to question the safety of school buses in our region.
"There have been no particular complaints [about Central's buses], but there is a noticeable shortage of bus drivers, leading to several bus changes throughout the year where one bus picks up students from another bus, or bus numbers change," divulged principal Finley King.
The driver of the Woodmore bus, Johnthony Walker, was 24 at the time of the accident, and worked under Durham School Services, which is a contractor of Hamilton County Department of Education.
Earlier this year, Tennessee governor Bill Haslam signed a new law that raised the minimum age of new school bus drivers from 21 to 25. This law will take effect on January 1, 2018, but current bus drivers that do not meet the requirement are said to be "grandfathered" in.
The new law also requires bus complaints to be reviewed and investigated within two days, having a report be made within 60 days. It also calls for transportation supervisors as well as new bus drivers to complete state training.
"I haven't had any bad experiences with my bus this year, but last year one of my bus drivers broke the mirror on the bus twice," revealed Sophomore Jaheim Williams.
One way of addressing the problem of bus safety would be to make seat belts mandatory on all buses. Several states including Louisiana, Florida, Texas, New Jersey, New York, and California already have mandatory seatbelt laws in place; Texas's law applying to newer manufactured buses.
Although Mr. King feels that our school buses are safe, he is not against the idea of installing seat belts in the school buses.
"It wouldn't hurt to have seatbelts. We should take every advantage that is available to us," Mr. King expressed.
On the other hand, seat belts could present new problems if students refuse to buckle them in or end up taking them off before arriving to their destination.
"I don't think we need seat belts on the bus because I feel like no one would take the time to use them," admitted Sophomore Abby Young.
Several bills regarding safety harnesses on school buses have failed to materialize in the state of Tennessee, because legislation thinks that they would be too expensive to add onto current buses. Others criticize this reasoning. Seeing as the school board has a surplus of school funds, residents believe that investing in students' safety is crucial if it means that lives are at stake.
Another thing that can help prevent future accidents is student cooperation. Mr. King has noticed a lot of students boarding and disembarking off of buses that are not theirs. If every student rode their correct bus, then bus drivers could get to know their students.
Regardless of whether or not seat belts become a part of buses in the future, there are always other precautionary measures that can be taken to ensure safe transportation. Doing the appropriate background checks on bus drivers as well as taking bus complaints can make a big impact on the prevention school bus crashes.
About the Contributor
DayOnna Carson, Editor-in-Chief
My name is DayOnna Carson, and this is my fourth year being on the Central Digest! I love reading and making stories of my own, so I am glad I got the...