Broken Water Pipe Creates Inconveniences Throughout Entire School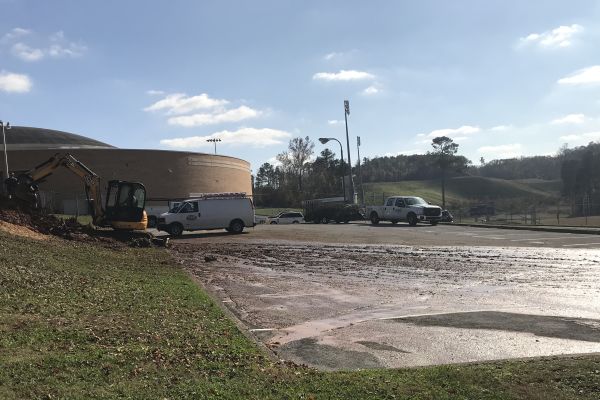 Central recently experienced a pipe bust outside of C- Pod. On the morning of Tuesday, November 14, faculty and students arrived to see that the C-Pod parking lot had flooded. Many students could not park their vehicles in the C-Pod parking lot due to this inconvenience.
As a result, all water on school campus had to be shut off. This allowed the problem with the pipe to be fixed. However, this meant that students and staff could not use the bathrooms or anything that used water on school campus. This made several students and teachers annoyed and uncomfortable.
"It was very annoying, I had to use the bathroom," claimed Freshman Austin Lawyer.
Since the school's water had to be shut off, classes would have had to have been cancelled the next day if the problem was not resolved. Many students, and even some teachers hoped that this would happen. The pipe was properly repaired before the next school day. This meant that running water would return to the school building and everything would continue as normal.
"Honestly, I didn't care whether school was cancelled or not. Luckily, I didn't have to use the bathroom though." said Freshman Collin Matthews.
The problem was resolved without much disturbance. Maintenance crew members were working hard to ensure the pipe was fully repaired. The problem was also addressed very quickly. It was able to be fixed before the start of the next school day, meaning things would continue as normal. All-in-all, the administration did very well in addressing the problem.
"I think the administration handled it very professionally because there was no disturbance, except for the time I couldn't wash my hands," concluded Mr. Parsons, Honors English 9 and Philosophy teacher at Central.
About the Contributor
Blake Catlett, Assistant Editor
Hey! My name is Blake Catlett, I am a junior, and this is my third year serving on the Digest! This is also my first year serving as the Assistant Editor....