Puerto Rico Native and Spanish teacher, Mr. Jose Sanchez, Tells of Hurricane Maria Aftermath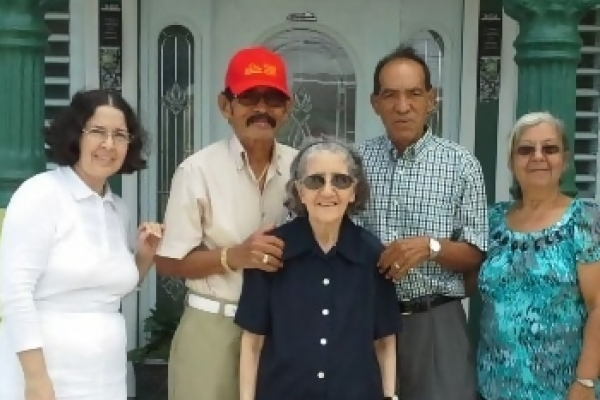 Although Chattanooga is 1,633 miles from Puerto Rico, the effects of Hurricane Irma and Maria were still felt here. Residents of Puerto Rico are still in the midst of an arduous recovery after the disastrous hurricanes Irma and Maria swept through the island a couple of months ago. Spanish II and III instructor, Señor Jose Sanchez, has parents who live in Puerto Rico that are currently living with the aftermath of these deadly natural disasters. Jose and Hilda Sanchez experienced the hurricanes firsthand, and are still grappling with the lasting effects of both tropical storms weeks after those storms devastated the island.
"[In comparison to past hurricanes,] Maria was the worst since San Felipe II in 1928," Señor Sanchez explained.
His parents, ages 86 and 88, have been living in the region since 1970. Upon hearing news of hurricane Irma heading towards Puerto Rico, they prepared by stocking up on nonperishable foods and putting up their storm shutters. Hurricane Irma spared the island a direct hit with its eye being around 25 miles away from shore. Nonetheless, the heavy rainfall was still enough to bring down a multitude of power lines and trees.
"When my parents learned that Hurricane Maria was also going to pass through Puerto Rico, they prayed for mercy and protection," revealed Señor Sanchez.
Within a few weeks, Maria touched down in Puerto Rico on September 20, beginning its path of destruction. The hurricane reached wind speeds of 155 miles per hour, flooding the island with 30 inches of rain in some parts, and knocking out the entire area's power, leading to the majority of the population without access to water. Most of the buildings and houses there were demolished by the category four storm, causing school to be cancelled and making navigation nearly impossible.
"Although I wasn't there with my parents in Puerto Rico, they received a lot of help from my sister, Gilda, and their nearby neighbors," Señor Sanchez added.
Sanchez's parents were not harmed during the harsh storms, however, without necessities such as water and electricity, they were not able to start the recovery process. Their landline was disabled, and the cars of many residents were demolished. As a result, Sanchez had a very difficult time getting into contact with his parents. It took six weeks for them to get a secure cellular network.
Once Sanchez was finally able to talk to his parents, he was relieved to find out that they were all right. Eventually his parents got a generator for their home, and after several weeks, their water was completely repaired. Usually it takes from four to five days for mail to be sent, but it took three weeks for his parents to receive two packages he had mailed to help them out. The hurricane even made it difficult to track the packages' delivery route at the post office. With mail running behind and scattered telephone service, communication between Puerto Rico was very limited.
"This was hard because I wan't able to stay updated with my parents and the status of their power. It's very stressful not knowing whether or not your parents are safe," Señor Sanchez admitted.
Unlike other natural disasters, Maria destroyed the supply centers that aid people in recuperating. Despite this, there was a major delay in the government's response to this catastrophe. Texas' recovery was relatively fast due to the fact that there was a lot of national support with donations and such.
"I understand how hard it is to ship supplies to Puerto Rico since it is an island, but it seems like there was a lot of red tape involved," Sanchez explained. "There was a ship stocked with supplies just sitting at the dock, but it had to go through the process of being approved before anything could be used. In a way, it's a blessing in disguise because there are a lot of things that were exposed that have been going on for years. Sometimes you have to go through hard times in order to make sure that things are done the right way in the future."
Currently, only 50 percent of the island has power. Officials are hoping to raise that amount to 75% by January 2018.
Citizens are still performing the daunting task of rebuilding nearly all the homes and buildings in the region, as well as cleaning up debris and helping provide support for one another. Recovery efforts are hoping to restore power to the entire island by next spring. The cost to rebuild the island, with all factors combined, comes to a total $95 billion.
Through several media outlets, the general population of the continental United States was informed of Puerto Rico's current situation. This struck a chord with many celebrities who used their platforms to take action. Marc Anthony and Jennifer Lopez arranged a benefit concert for the island, titled One Voice: SomosLive! It aired on October 14, and allowed viewers to donate by phone call or text message. Two baseball players from the Houston Astros also contributed to relief efforts for their mother country. Carlos and his wife Jessica Beltran raised one million dollars with their fundraiser, and Carlos Correa sent a plane full of supplies there as well as making a special trip to the island for his relief event.
After learning about the lack of action for the island, many organizations and individuals decided to take the matter into their own hands and come up with ways to assist Puerto Rico from within their own community. Puerto Rico is resilient, and will recuperate in the coming months with the help of other fellow Americans.
As relief efforts gain momentum, people from around the nation cheer, "Puerto Rico se levantará!" [Puerto Rico will rise again!]
About the Contributor
DayOnna Carson, Editor-in-Chief
My name is DayOnna Carson, and this is my fourth year being on the Central Digest! I love reading and making stories of my own, so I am glad I got the...