The Central Digest Partners with the American Heart Association to 'Drive for 5'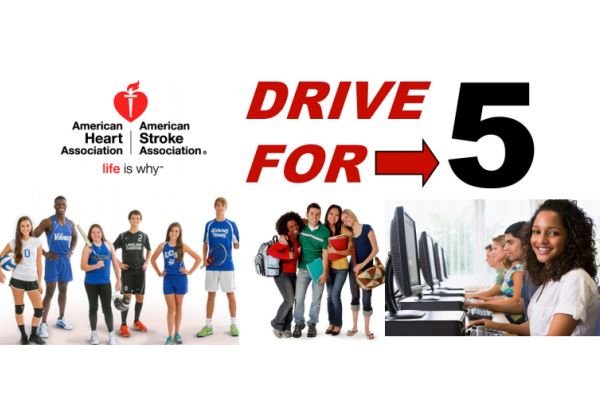 Hang on for a minute...we're trying to find some more stories you might like.
Did you know that 350,000 cardiac arrests take place each year outside of a hospital? In saying that, a significant number of those health incidents could have been prevented with simple lifestyle changes. In order to spread awareness at a young age and hopefully prevent future heart problems, The Central Digest is partnering with the Chattanooga division of the American Heart Association for a promotional program, known as "Drive for 5."
The premise of the week-long program is 5 messages, with one motivational goal per day.
"Drive for 5 is 5 messages: Eat better, move more, stay away from tobacco, cut out sugary beverages, and limit salt in your diet," explained American Heart Association East Tennessee Senior Youth Market Director Jean Saunders.
Starting Monday, February 12, one member of the Central Digest will join Principal Finley King on the morning announcements to share healthy tips and facts regarding that day's topic.
"Being able to do Drive for Five has been really awesome, and I am glad that we could spread awareness about a healthy heart and staying active," exclaimed Central Digest Columnist Haylee Smith, who has been writing the daily healthy living announcements.
Then on Friday, February 16, the Digest staff will be collecting $5 donations for the American Heart Association during lunch in the cafeteria. As an incentive, students will receive a red wristband from the Heart Association. Students wearing the wristband will be able to dress down the entire next week, February 20-23.
"The American Heart Association leads the way in education and training that can increase survival rates by 400%. Despite our efforts, less than 50% of those who experience  cardiac arrest get the help they desperately need. With continued funding and education we can create the next generation of first respondents to improve survival rates. The power of the $5 donation, teaches more than 100 adults how to save a life," concluded Saunders.

About the Contributors
Preston Fore, Editor-in-Chief
Hi! My name is Preston Fore. I am currently a senior at Central, and this year will be my fourth and final year on the Digest; I am very grateful to serve...