Cimino Named Valedictorian, Harrigan Named Salutatorian of Class of 2018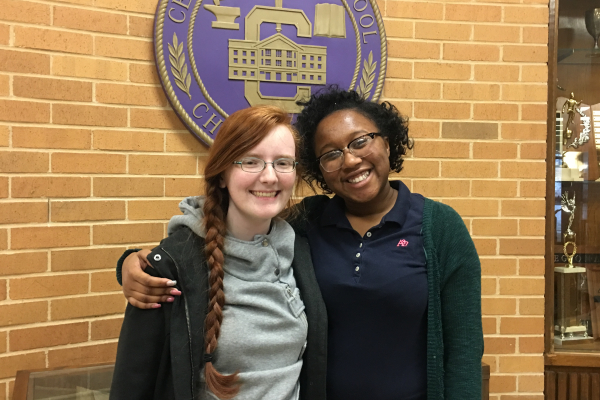 Principal Finley King recently announced that Kat Cimino and Bethsy Harrigan were the valedictorian and salutatorian of the graduating class of 2018.
"I knew I was towards the top [of the school rankings], but I didn't expect to be valedictorian. Bethsy and I have been more or less friends since the ninth grade, and I know that she's pretty smart," Cimino elaborated.
"I was relieved to find out about being salutatorian because I was scared that I might have lost my ranking," Harrigan admitted, "I found out at the beginning of first semester that I was number two and I had the potential to become salutatorian. I was glad that all my hard work had finally paid off."
Both students have maintained a 4.0 GPA, excelling exceptionally well in each of their studies. Cimino scored a 31 on her ACT while Harrigan made a composite score of 28, with a super score that totaled to 31.
"It actually feels pretty nice to be the valedictorian. I came to Central in ninth grade, not having been to a public school before. It was a bit rough at first, but it was pretty exciting as the school year progressed," Cimino expounded.
While graduating at the top of your class is a very enjoyable experience, it takes a great amount of motivation and perseverance to get there. Our top students have experienced the same struggles as their peers, but they learned to make the most of their situation with help from several faculty members.
"Mrs. Cotreau was pretty awesome. Mrs. Dobbs has also helped so much by setting the bar in ninth grade. In Latin class, she explained things in an understandable way," Cimino recalled, "Mr. Potter made it possible for me to take dual enrollment calculus! I didn't dread math class because it actually made sense for once."
"Take as many advanced classes as possible. All grades make a difference," Harrigan advised, "Do your best on every assignment. Taking honors classes boosts your GPA as well, and it's always a good idea to check your transcript for errors."
This year's leading students are looking at a very successful future ahead, as they have already made arrangements for a couple of prestigious universities.
"I am going to Vanderbilt in pursuit of going to medical school to become a psychiatrist or neonatologist," Harrigan imparted.
"I am planning tentatively on majoring in French at Wesleyan University in Connecticut," Cimino elaborated.
Although Harrigan and Cimino are ecstatic for what is to come during college, they have not forgotten about all the memories that they have made throughout their final years of grade school at Central.
"So many great things that have happened," Cimino reminisced, "I've got to say, I really enjoyed when we made that movie in Mrs. White's class. I remember taping papers on the wall as a backdrop."
"I'll cherish my friends that I'll miss when I leave for college. I'll also cherish the high school atmosphere and the teaches that have shaped me into who I am," Harrigan divulged.
As our new valedictorian and salutatorian say farewell, their family and teachers will proudly watch as they spread the positive energy of true Purple Pounders.
"Something that I would've liked to tell my younger self about the future is that it's going be okay, stop worrying so much. Just do your best and stop freaking out," Cimino concluded.