Saige Lowery Chosen to Represent Central's Staff at 2018 Graduation Ceremony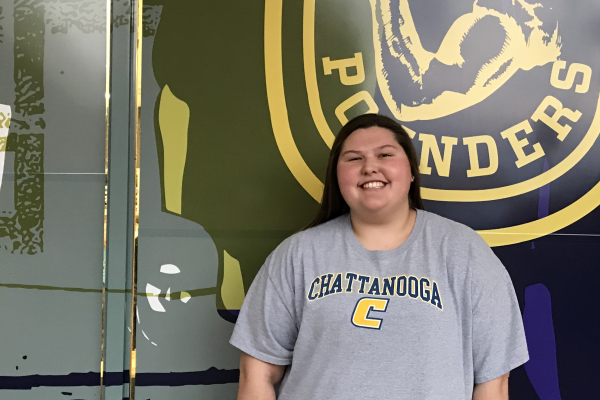 The seniors have been preparing for graduation day since the beginning of the year, and the time has come to prepare for their farewell speeches. The valedictorian will give a speech along with the staff and class speakers.
Two students are carefully selected each year to represent the senior class and staff. This year, Senior Saige Lowery will proudly represent the school's staff in their annual graduation ceremony.
"I feel honored to have taken that position. When I found out, I cried! It's really humbling to find out that my work was meaningful to teachers. Although I do feel nervous," expressed Lowery.
Central has impacted students in ways that are hard to express. Not everyone participates in sports or clubs, but those who do can say they really enjoyed their time at Central.
"I was the president of FCCLA freshman year. I was in Book Club and the Acts of Kindness Club with Mr. Daum sophomore year. My junior year I was in Beta Club and National Honors Society, and now as a senior I'm in the Beta Club and president of The National Honors Society, The 21 Club, FCA, and I'm in the top ten percent," Lowery announced.
Her high school career has been a success and she is ready to take on the challenge of starting her new career as a college student.
"I've pushed work ethic in a sense that I take AP classes and dual enrollment so it has prepared me for college," elucidated Lowery.
Central has taught Saige to show respect and to put herself out there. That is why the staff have selected her to prepare a speech, and for that reason Lowry has selected them for inspiration.
"I think my biggest inspiration will come from the teachers who inspire me the most. Those who have taught me more subjects that I didn't even know existed. Other people who have been in Central such as Mr. Massengale and Mrs. Ross inspire me as well," divulged Lowery, "Mrs. Sellers pushed me to do something neuro-related, so I credit her as well."
There are definitely traits that helped Saige receive this position, such as respectfulness, responsibility, and good grades. These traits made her stand out to the staff while they made their special selection.
"I would say respectfulness and the willingness to learn helped me get the position. Along with hard work and determination. I wasn't afraid to help out, and the leadership roles I played at Central helped me as well. I also never forgot that teachers are people too," shared Lowery.
Senior year is the exciting last year of everyone's high school career. Many students are glad to be starting their future as an independent person, but they must get through the year first, before planning what is to come.
"Senior year started out a bit rough because you have responsibilities thrown on you, but besides all the stress it has been a great year," said Lowery.
"Over the four years at Central I've gotten to know many different people," mentioned Saige, "My government class is not honors so I get to see a more dynamic side of Central."
Lowry has achieved many things and has proved her readiness for a prosperous career.
"I am really planning to do something science related. I plan on going into the medical field, i'm going to UTC for biological chem as Pre-Med. My plans are to go to Med school to be a dermatologist," described Lowery. "In the future I would like to be with my family while I work as a dermatologist."