Post Heart Week: Reflecting on 'Drive for Five'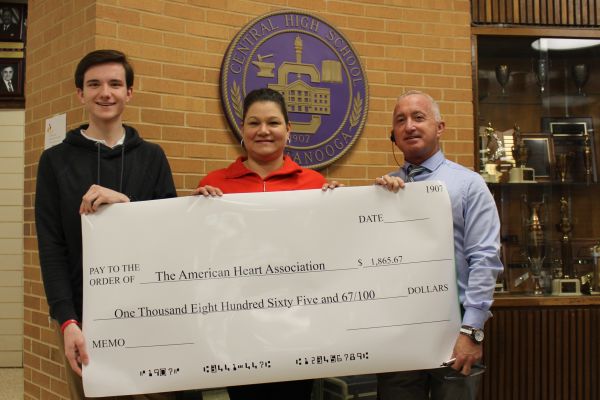 During February, the Central Digest partnered with the American Heart Association to put on the fundraiser "Drive for Five", which allowed students to buy wristbands that sported the slogan "Life is Why." The fundraiser was a success, in part because students were permitted to dress down for a week if they purchased a wristband. Although the dress down pass was a big contributing factor to the large amount of money raised, many students may have let this incentive eclipse the importance of the fundraiser's true purpose. That main purpose is to raise awareness of heart disease, and how to prevent it.
While awareness fundraisers like Jump Rope for Heart and Hoops for Heart have been in motion for many years, this was the first year for "Drive for Five" in our area.
"We had 4 area High Schools participate, collectively raising $4,488, with Central High School leading the effort with $1,800 raised and Northwest High (Dalton) with $1,500 raised. Ivy Academy and Cohulla Creek High School also participated," reported American Heart Association East Tennessee Senior Youth Market Director, Jean Saunders.
Donations mean a lot to the American Heart Association, and they allow the foundation to fund life-saving research and equipment.
"The American Heart Association (AHA) is second only to the U.S. Government in funding of Cardiovascular research. Our research programs have contributed to many important scientific advances. Any healthcare provider who has ever provided CPR, pacemakers, drug-eluting stents, clot-busting medicines or cholesterol inhibitors to patients is already benefiting directly from the impact of AHA research funding," Saunders imparted.
The American Heart Association's mission is to "build healthier lives, free of cardiovascular disease and stroke." They work to accomplish this by not only researching, but also raising awareness in order to prevent cardiovascular disease.
"The cardiometabolic consequences of obesity, poor diets and inactivity remain an important issue, as reflected in the fact that 82% of U.S. adults have less than ideal CV health; thus, the population as a whole remains at risk for future cardiovascular disease," Saunders stated.
The AHA responded to that danger by setting a goal.
"The AHA is working to improve the cardiovascular health of all Americans by 20 percent, and reduce deaths from cardiovascular diseases and stroke by 20 percent, by the year 2020," Saunders proclaimed.
Overall, the American Heart Association is dedicated to curing and preventing heart disease. Raising awareness of how important a healthy lifestyle is to preventing heart complications is vital. Therefore, fundraisers like "Drive for Five" are crucial for both raising money for research and introducing to high-schoolers how important heart health is. While this was a profitable and informative fundraiser, let us not lose 'heart' before we fight the good fight against heart disease.