2017-2018 Mr. and Miss Central Court Nominees Are Revealed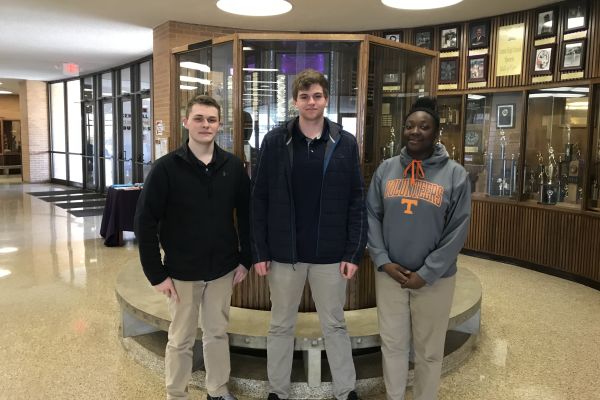 The Central Court is a way to show the best of the best at Central. Six senior boys and six senior girls are picked out for the Central Court. These 12 students are the best of their class and excel not only at academics, but outside of class as well. Students can select one of the 12 candidates who they feel is most suitable for the title of  Mr. and Miss Central for the current school year.
"All nominees are within the top 25 percent of the class and are constantly involved, in and out of the classroom," expounded Taya Crowder, a nominee of the Court.
Among those who were revealed to represent Central are Ross Forgey, Hayden Lakin, Monet Henderson, Taya Crowder, Kania Ricks, Cassidy Simms, Jada Stewart, Jake Biddy, Alberto Dominguez, Mitchell O'Neil, and Joshua Sizemore.
To earn their spot in the Central Court, students must prove their achievement in their studies. All students on the court have a perfect GPA, excellent behavior in the classroom, and a near-perfect attendance record. Students must also be involved in their classrooms constantly. Students may also be involved in the many extracurricular activities offered here, or other acts of community service. Almost all of the Court candidates are involved in Beta Club and National Honors Society. Court candidates are also involved in sports, band, art, drill team, and many other clubs and activities.
"I am the Band Captain, in Beta Club, in National Honors Society, and I am the Secretary for the seniors," answered Joshua Sizemore, when asked what he did to earn his place on the court.
Most candidates were quite excited to hear that they had made the list. Many were proud of themselves and all they had accomplished this year. Some candidates were even surprised to hear that they were on the list of candidates.
"I was very surprised to hear I had made it on the Court. I was not nominated for Homecoming, so I really did not expect it," Mitchell O'Neil confessed.
Voting for the Central Court will commence on May 10. Until then, candidates will have to wait and see if they will be crowned Mr. or Miss Central.
About the Contributor
Blake Catlett, Editor
Hey! My name is Blake Catlett, I am a senior, and this is my fourth (and final) year serving on the Digest! This year, I will be serving as Editor. I spend...