Central's Symphonic Band Attains Perfect Scores at the ETSBOA Concert Festival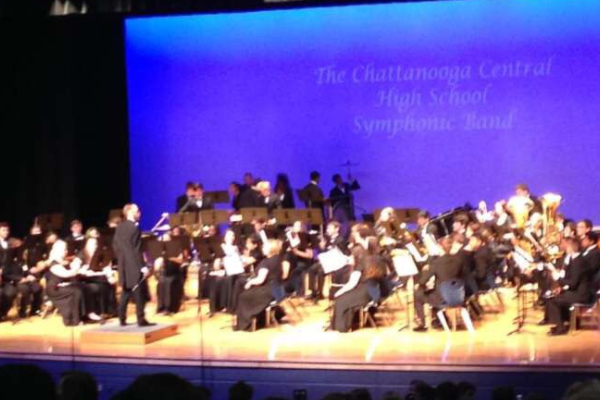 Central's band department is a gifted group of student performers that have earned several achievements and awards over the years. The band room lined with rows and rows of various trophies is a constant reminder of their talents. With that being said, it comes as no surprise that they would continue to add to their ever growing list of accomplishments by making their mark on the judges at the 2018 East Tennessee School Band & Orchestra Association (ETSBOA) Concert Festival.
"The band received straight Superior Ratings on every judge's sheet, in every category, on stage and in sight-reading assessment," band director Joshua Bloodworth accentuated, "Additionally, this means that Central's Band will be recognized as a Program with Distinction for receiving the highest ratings possible."
On March 14 through March 15 our Symphonic Band traveled to Bradley Central High School to participate in the event. Prior to their arrival, the band went through rigorous practice in preparation to be judged on the basis of Tennessee's music standards.
"The average band practice is during school time and lasts for about 50 minutes. During festival season though, we have sectionals after school that last from 2:45 until 5:00," clarinetist Abby Young divulged, "Our sectionals are split into three groups: brass, woodwinds, and percussion. We break down the individual songs and see what needs some extra love and work from there."
These state expectations are similar to that of those intended for other school subjects during statewide assessments.
"Each judge has a sheet that has a box for a score and comments for each music standard and musical concept (i.e. Intonation, Balance, Musicality, Professionalism, etc.)," Bloodworth elaborated.
The band had prepared several musical pieces including "They Led My Lord Away" by Allen, "Allegro Barbaro" by Bartok, and "Minimalist Dances" by Conway. There were a multitude of other schools that were also in attendance including Soddy Daisy, East Hamilton, Ooltewah, Signal Mountain, Red Bank, Lookout Valley, Sale Creek, CCA, Ridgeland, Hixson, McCallie, GPS, and Cleveland high schools.
"I felt the normal feelings anyone would feel: nervous, intimidated, and scared," Young conceded, "However, it was kind of thrilling because I knew that we were very qualified and the judges would love us."
The judges evaluated each band using a scale of one to five, five being the least desirable and one being the best. As mentioned before, our band left having received ones in every category, which lead to their title of a Program of Distinction.
"The event is important to us because it is our 'standardized test'," Bloodworth explained, "The panel of adjudicators for both the stage and sight-reading performances are all top notch educators themselves from middle school, high school, and college band programs across the Southeast.  These are educators who really know their stuff.  So if you are able to impress them, you're probably doing things correctly."
Everyone is proud of our band for representing hat our school embodies so well and succeeding in such an area that requires a lot of dedication and patience.
"My favorite part about being a musician is being able to convey a myriad of emotions to the audience. It's just a very emotional process," Young delineated, "We tell a story through our music with many twists and turns. Playing music is so exciting and complicated, but I love it. Our band Receiving the Superior Rating was amazing. I was so elated that all our hard work paid off!"
About the Contributor
DayOnna Carson, Editor-in-Chief
My name is DayOnna Carson, and this is my fourth year being on the Central Digest! I love reading and making stories of my own, so I am glad I got the...