Psychology and Sociology Teacher Tina Staton Reminisces About Her Years of Teaching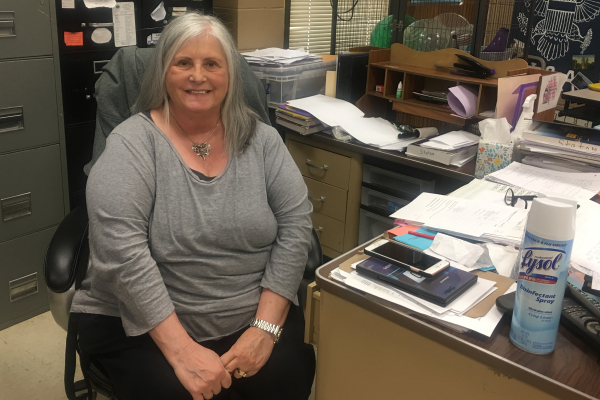 Central started this school year off by welcoming a host of new staff and personnel. On the contrary, the student body will have to say farewell to several beloved teachers this year. Psychology and sociology instructor, Mrs. Tina Staton, is among others that will be retiring from the school this year.
"The fondest memories that I have of this school are the students I had in class. With all the different personalities they each had special qualities that make them unique," Staton divulged.
Staton attended City High School and graduated a year early in 1971. She went on to obtain an undergraduate bachelor's degree in secondary education and psychology while at UTC and later earned a master's degree in education while at Tusculum University.
"I have loved both psychology and sociology since college. Even though they are not core subjects, I personally think psychology should be required,"accentuated Staton, "It teaches about how to get along in life. It gives you the tools you need to raise your kids, train your dog, be more understanding and thoughtful of other people, be understanding and thoughtful of yourself, and other tools on just how to grow as a person."
"Sociology goes hand-in-hand with Psychology. It enables a person to see how society operates and the institutions we hold dear. It helps them see their role in society and how they should be culturally accepting of others," Staton elaborated.
Staton began her educational career at Boyd Buchanan, eventually taking a position at Central. She has taught a multitude of subjects including Tennessee history, cultural studies, world history, U.S. history, economics, government, sociology, and of course AP and standard psychology. She has been teaching here for 26 years now, having enjoyed the opportunity to watch the school evolve and grow with its students.
"I believe that the school leaders (principals and assistant principals) determine the environment of the school. My first principal here required teachers to make an appointment to see him," Staton recounted, "I love the environment now. The open door policy for teachers, the freedom to express ourselves, and the feeling that we are valued as professionals makes Central a wonderful place to be."
The reason why most people go into a profession such as teaching is to make their mark on our future generations by teaching them everything they have learned and help our youth reach their full potential. That is no different with Staton.
"The lasting impression that I'd like to leave my students with is that I care deeply about them even though I may be hard (in their opinion). I want them to always have high expectations for themselves and to reach high for their star. They will not shine being mediocre and never be satisfied by being 'average'."
Since she has been teaching for so long, most people haven't imagined Staton being outside of a school setting.
"Some things that my students may not know about me is that I'm a Harley Babe and that I was a Ghostbuster," Staton imparted.
Additionally, during college she worked at a jewelry and shoe store.
Mrs. Staton plans to spend even more time with her family and at church. After retiring, she also would like to dedicate her time to her hobbies, Kappa Kappa Iota, and the Daughters of the American Revolution.
A couple of things that Staton will cherish most about teaching are her students and her best friend, Latin, German, and English teacher Mariea Dobbs.
"I'd like to say thank you to Mrs. Dobbs for being my best friend. You are the kindest and most generous person I know. You are not going to be rid of me that easily," Staton quipped.
Since high school marks the near end of one's adolescence, it is understandable that most students have their doubts about their ability to integrate to the ways of the "real world". Despite that, Staton wants to remind them that they'll be a great asset to our future.
"Always have a positive attitude and behave in such a way you do not look back with regrets. Be the best at whatever you choose for a career, and as you go up the ladder of success, be kind. You may need these folks if you go down the ladder," Staton concluded.