Teens Inspire Hamilton County Into Introducing a More Modern Tobacco Policy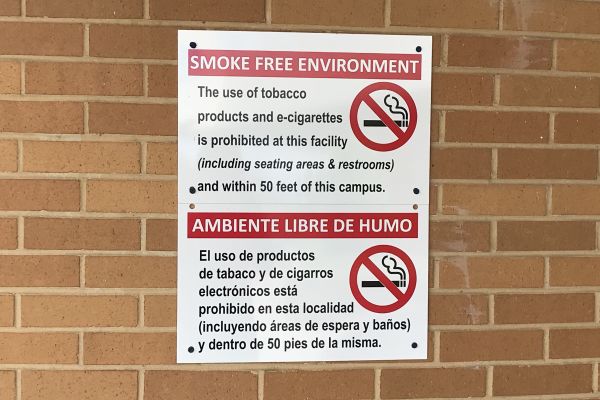 Tobacco and nicotine products have a come a long way recently. Most of these new products would not have been covered under the old tobacco policy of Hamilton County. This is a why a small group of teens inspired Hamilton County schools to scrap the old tobacco policy and completely go nicotine-free.
Dereke Townsend, Desman Ware, Mike Green, and De'Koryon Powell were the ones to press Hamilton County to change the policy. The small group of teens are part of a statewide movement called TNSTRONG (Tennessee Stop Tobacco and Revolutionize Our New Generation). TNSTRONG is a program of the state department of health. TNSTRONG's main focus is to stop tobacco use in schools and to inform students of all the consequences of tobacco use, especially at a young age.
"This is going to impact the children. I know they won't see the things that I've seen going through high school – seeing teachers smoking around campus. They won't be attracted to these things. They won't be thinking these things are acceptable," explained Dereke Townsend, one of teens that pressed Hamilton County to change the policy.
The new policy is reformed to counter advances in tobacco and nicotine products. The policy bans combustible tobacco, smokeless tobacco, e-cigs (electronic cigarettes), vaping, and any other products. The policy bans the products from all school property, including school vehicles, public restrooms,  bleachers, athletic fields, gymnasiums, and auditoriums.
"As we've seen a decrease in smoking, we've seen an increase in youth using electronic devices – as many as 40 percent of youth in the state of Tennessee have used electronic, nicotine-containing products – and that's a trend we want to reverse," explained Dr. Morgan McDonald, the assistant commissioner for family health and wellness at the Tennessee Department of Health, "We certainly see this as a very strong step forward."
The new policy is a huge step in improving health throughout Hamilton County. Students will not be able to use nicotine products while at school and will be educated on the consequences of nicotine. Hamilton County Department of Education hopes the new policy will cause a decrease in the use of nicotine products in teens.
About the Contributor
Blake Catlett, Assistant Editor
Hey! My name is Blake Catlett, I am a junior, and this is my third year serving on the Digest! This is also my first year serving as the Assistant Editor....