Jose Sanchez Commemorates His 33 Years Spent at Central in Response to His Retirement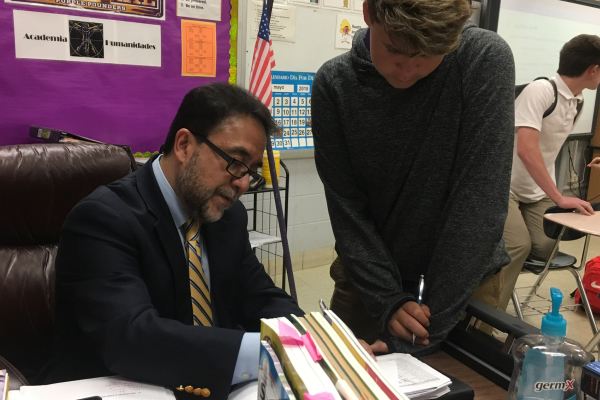 While students prepared for their last days of the 2017-18 school year, Spanish II and III instructor Señor Jose Sanchez made preparations for his last days of teaching at Central High School. After being a dedicated teacher here for 33 years, Señor Sanchez made the difficult decision to retire with the close of a term.
"I've been blessed beyond measure by a supportive administration, caring faculty and staff, and wonderful student body," Señor Sanchez said. "I'm very grateful for the many fond relationships I have formed here over the years."
He became a graduate of Francisco Oller High School in Cataño, Puerto Rico in 1975. He later transferred from the University of Puerto Rico to Tennessee Temple in 1977. He went on to graduate in 1981. During these years, Sanchez learn how the educational field functions and developed a desire for teaching.
"Since learning came easy to me, I was compelled to pass it along to others. I truly enjoyed seeing my peers do well because of my intervention," Señor Sanchez explained. "For the past 18 years, I've been working after school at the Sylvan Learning Center where I tutor students in an array of subject areas. What the basketball court is to LeBron James,  the boxing ring is to our very own Central Alumnus Ryan Martin. The classroom is this to me. I love to teach!"
Sanchez's gift of explaining difficult concepts in easy-to-understand methods is shown through his students. Somehow he can break up a seemingly difficult grammar concept that is used within the Spanish language into small, logical, sections. In a matter of minutes, his students are able to accurately and effectively put that grammar rule to use, which makes them feel more confident in their proficiency in speaking the Spanish language. He even received the honor of Central High Yearbook dedicatory in 1995, which is awarded to teachers that have taught here for at least 10 years and voted upon by the senior class.
Throughout his career, Sanchez has taught study skills, Spanish I through IV, dual enrollment Spanish, and even Bible History for here at Central for 14 years from 1985 through 1999. He has even served as a Chattanooga State adjunct from 2000 to 2010 teaching conversational Spanish.
"Among my fondest memories as a teacher here at Central are the following: teaching Bible History my first fourteen years; receiving the Teacher of the Year Award in 1993; the News Channel 12 Golden Apple Award in 1995; being nominated by students at various times for Who's Who Among America's Teachers; taking part in the Faculty Talent Show; building up the Spanish program; and, the altruism displayed by students by bringing countless items for the preparation of Thanksgiving baskets for needy Hispanic families in the community for 28 consecutive years.  For these reasons, and many more, I will remain thankful and filled with gratitude for my experiences and time here," Sanchez noted.
Although teaching has played an integral part in his life, it is not the only occupation that Señor Sanchez is known for.
"I worked for Olan Mills photography studios for 19 years (1981-1999). I started off working in the Maintenance Department, and then I was promoted to the supply department," Sanchez recalled. "I was later transferred to corporate printing. My favorite aspect of the job was reaching production goals that were set for us, as well as producing an excellent finished product. The friendships that were formed there over the years will never be forgotten."
After working at this school for so long, it would make sense that things would not be the same each year. Sanchez revealed that the biggest change he noticed was the merging of Chattanooga City Schools and Hamilton County Schools in 1997.
For many it may come to a surprise that someone as devoted and erudite as Sanchez himself could give up teaching, but in actuality, that is not the case.
"The wonderful thing is that I will continue to teach Spanish, but this time at Southeast Whitfield High School in Dalton, GA." Sanchez said.
It would only seem natural for Señor Sanchez to continue sharing his knowledge with others and help more individuals gain the skills they need to be able to fluently speak Spanish.
"I would like to share a word of hope with my students: have a dream, H; opt to be positive, O; put your all into whatever you do. Go the extra mile, P; and endure until the end and never quit, E," Sanchez concluded.
About the Contributor
DayOnna Carson, Editor-in-Chief
My name is DayOnna Carson, and this is my fourth year being on the Central Digest! I love reading and making stories of my own, so I am glad I got the...