Central's Gifted Teacher, Danielle Hooper, Joins a Chattanooga Police Officer During a Ride-Along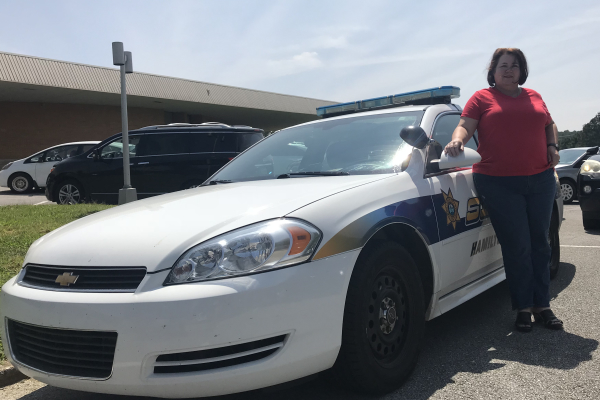 Hang on for a minute...we're trying to find some more stories you might like.
Many of us see news outlets that depict police officers as violent and cruel due to the excessive force they are depicted using on citizens in the media. Danielle Hooper, however, contradicts that impression. Central's gifted teacher recently went on a police ride-along that allowed her to experience a day on the job of a Chattanooga police officer first hand. This included witnessing the behind the scenes calls and pursuing fleeing suspects.
"I was a fly on the wall, just observing and asking questions," described Hooper, who obtained this opportunity through Public Education Foundation (PEF) Policy Fellows in efforts to become accustomed to different agencies that impact students. They allowed her to join an officer on a ride-along to have her experience the day-to day tasks they withstand. Any citizens that are of age can participate, as well, after undergoing a simple background check.
"I was excited! I wanted to see for myself how the officers interact with the public. There is so much negativity regarding police officers and just like teachers, there are some that give a bad name to others," Hooper explained. "The police officers I was with were polite and courteous. They really care for people."
Chattanooga Police Officer Greg Stroud who took part in the ride-along also enjoyed his time demonstrating his chaotic tasks to Hooper. As they toured the town waiting for calls they learned about how similar their jobs may be.
"My experience was well, I enjoy teaching others about my work and it's not every day that you get to do so with a teacher who, in a way, does the same work I do. We both mentor, we both listen to people's problems, and we offer solutions or problem solve them together," said Officer Stroud.
"Police officers spend a lot of time knocking on doors and nobody answering. They also spend a lot of time listening to people's different sides of stories. I feel for them because some people make no sense at all, kind of like when teachers listen to excuses..words..words..words!" explained Hooper.
The ride-along took place on August 11, from 3p.m. to 10p.m. Hooper was assigned to the Adam South sector, located across from the Chattanooga Community Kitchen. There they heard the average everyday calls, which were normally domestic related.
Hooper spent most of her time with Officer Stroud around Northshore, Frazier Avenue, downtown Chattanooga, University of Tennessee Chattanooga, and Howard High School areas.  
"We did have an exciting time using lights and sirens in front of the Creative Discovery Museum, when we went over the curb for a suspect who was running. I did have to stay in the car for a couple of the calls for my safety," said Hooper, who never felt scared or unsafe.
Central's gifted teacher may have experienced one day of chaotic adventures, but that does not mean they are all the same. Being an officer means having to be prepared for the unexpected. Not only do they have to be alert at all times for emergencies, but also on guard for when children need someone to talk to.
"There is no regularity with policing, however, there are many frequent calls. Sometimes they are the same person calling about the same thing. I can say most days there's a suspicious person call. Usually a homeless man asking for change, a group of kids checking door handles in a parking lot, or my personal favorite, a guy jogging in a hoodie with his hood up," explained Officer Stroud. "However as funny as some of these calls can be we have serious ones that happen often too. Such as burglaries or home invasions or a really bad wreck where people end up seriously hurt, or dead. On a busy day, our emotions are on a roller coaster. We go from sitting at a table, having just ordered food and not being able to take your first bite because you sprint out the door on a hot call. Sometimes that turns into a burglary in progress or just an open door on a house that's been abandoned for decades."
Police officers are often prepared with equipment that may not be used for stopping crime, but instead to make positive impressions on younger generations of children. Citizens who take part in the ride-along get to witness this and many other acts of kindness.
"They [people in the ride-along] get to see that we want to help and protect others. They see the sports equipment (basketball, football, soccer balls etc) in the trunk; see the kids come up and ask us to play with them. They get to see them show us their A graded paper, smiling and holding it high proudly. All because we made a positive impression on them at some point," said Officer Stroud. "They get to learn that we wear many hats. Not just a police one, but a friend, father/mother, role model, big brother or sister, therapist, and just someone to listen."
Participants also benefit by being able to ask  questions. They get first hand answers from citizens who do this as a living. This may include how they handle situations or what exactly happens behind the scenes.
"After seeing and learning all this about us during our shifts. I feel that the person gets a positive connection on a more personal level with an officer than just a small conversation on the side of the street. With that level of trust, it builds a better and stronger relationship with the community," concluded Officer Greg Stroud.

About the Contributor
Cassandra Castillo, Copy Editor
Hey! I'm Cassandra and I am a senior here at Central. This is my third year on the Digest and I have taken position as Copy Editor. My pastimes include...