Teacher Spotlight: Hannah Goering Apprentices in Art Program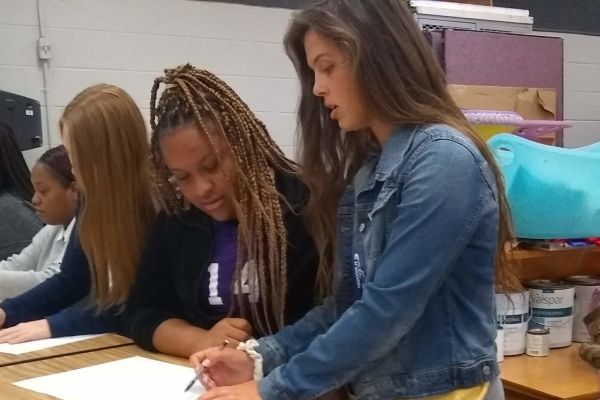 Student teachers are a staple of the education system. Prospective teachers are given an in-depth insight into how classes are managed, and students are given a temporary break from the monotony of typical classes. Each year a handful of student teachers join Central for approximately a quarter to learn the proper techniques for handling a classroom. Of these few college students is UTC student Hannah Goering, who is joining Mr. Robinson's art class until October 5.
Goering's reasoning for choosing this career path originated from a source of unsatisfactory art teachers clashing with an inherit love for art. Instead of being discouraged, she grew the desire to help new, young students in their artistic journey in a more encouraging manner.
"I want to be able to provide the creative resources at school to make it fun," mused Goering.
Student teachers, though older than high school students, are still students with classes and requirements to meet. Despite this, they are still required to do many things that teachers themselves do daily, albeit on a lessened basis. They also must show recorded proof that they are practicing the act of teaching. This is measured by the edTPA, an assessment used to evaluate the skills and knowledge required of a teacher. It entails creating your own learning segment, teaching it to a single class, and recording the process. Aside from that, student teachers also receive information on how to effectively teach from the teachers they are partnered with, allowing them to unravel the inner workings of how to manage a class.
"I've learned a lot about planning a lesson to work with the class you're teaching," Goering expressed, "It's very hands-on, and after I think I'll feel prepared to teach."
While she is mentoring at Central High School, Goering's plan is not to teach high school students. She hopes to teach art at an elementary level, and even now teaches preschool students. While her next school, Normal Park Upper, is in line with that goal, her placement at Central came as a bit of a surprise and was much different than was expected. However, it does have its perks.
"The work you produce is more evolved and advanced than anything elementary schoolers do," commented Goering.
After Goering graduates she hopes to move to California. However, Goering will spend the next five weeks at Central before moving on and achieving her dreams. The students at Central are sure to miss her when she leaves, as most students in the art program have only positive words for the young teacher-to-be.
"Mrs. Hannah is really nice and helpful. It's fun having her around," remarked Colby Heaton, a junior in Art III, "I'm going to miss her when she's gone."
About the Contributor
Sam Helmholtz, Staff Writer
My name is Sam, and this is my second year of the Digest. I'm currently a junior and hope to attend an art college in the next couple years. I also greatly...