After Over 30 Years, Central's Track is to be Rebuilt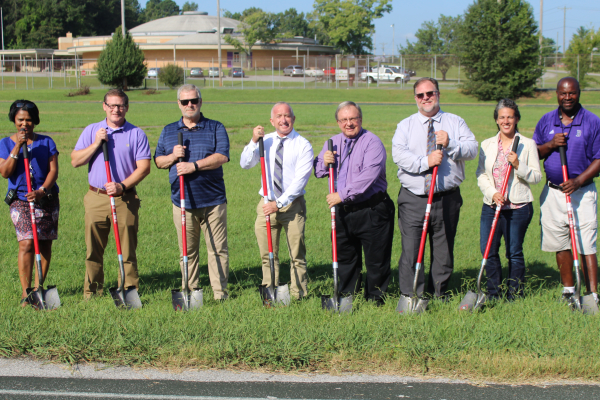 To both students and teachers, the likelihood of receiving a new track was very slim. A majority of the student body firmly stood by their beliefs that Central would never be able to acquire a new track and field after noticing the lack of action taken by the Hamilton County Board of Education. Now, after years of setbacks, the worn pavement will be broken down in order to make way for a completely new track.
"My initial response to the news that we were getting a track was 'Yeah right, I'll believe it when it happens'," admitted Steve Lewis, assistant principal and athletic director of Central High.
Lewis is Central's former track coach, and has been advocating for a renovated track for 13 of the 15 years that he has worked here. The school's request had been considered a few years ago, but it had ultimately been turned down in favor of other pressing needs throughout the district. At the school board meeting last year, it was decided that there would be a final vote on the possibility of the new track request being fulfilled, but in the end the school lost by a 5-4 vote.
Despite all this, school administrators, such as principal Finley King and Lewis himself, were informed that the county commissioners funded a new track for the school with leftover money from their previous school budget.
"It feels good to be able to provide the funding for the new track," explained commissioner Chester Bankston, who represents District 9 on the Hamilton County Commission. "This means that we are together pressing forward for something."
That had been six months ago, but even then, Lewis seemed skeptical about the whole ordeal. It wasn't until he saw a Chattanooga Times Free Press article detailing the budgets of individual schools that he began to feel more certain that the allocation of money for the track would actually be made. Central was among the list of various schools that were receiving repairs or other improvements.
"I can't wait to see what students can accomplish with the right platform," commended former track coach Jennifer Lewis.
On Thursday, August 30, several educators from the school and surrounding areas held a small gathering in honor of the approval for a the new track. Among those in attendance were principal Finley King, assistant principal Michelle Cochran, Lewis, track coach Gary Bloodsaw, Brown Middle principal David Carpenter, Chester Bankston, Jennifer Lewis, Hamilton County Schools communications director Tim Hensley, and Dr. Steve Highlander, school board member of District 9. Each of them marked the beginning of construction with a groundbreaking.
The school administrators met up with designers about five months ago regarding the track. It was at this hearing that Lewis brought up many safety concerns and other minor flaws that the designers wouldn't have otherwise noticed since those specific needs didn't pertain to their area of expertise.
"When I used to be the track coach, every year at least one or two students would be running the curves until a part of the track would slide from beneath them," recounted Lewis, "We ended up having to take a few kids to the the hospital because of that."
The uneven layers of the original track, constructed sometime around 1969, combined with the large, grassy cracks that ran the span of the track created a lot of problems for both coaches and students. That track consisted of cinder until an asphalt layer was added about 1975. About 10 years later, the racecourse received its famous green finish.
The design team gave Lewis permission to alter a few of their original plans since he was familiar with the features that would be essential to the students that would be using it. The blueprints were finalized a month ago, with students' best interest in mind.
"It'll be an eight lane track with installations for all the field events including high jump, pole vault, long jump, discus, and shot put," Lewis explained, noting its been many years since these events were available to Central athletes.
Once the new racecourse is constructed, the school will be able to host track meets comfortably, bringing in more funds for the team. Past fundraisers' proceeds went towards the costs for the coaches and students to be able to manage the team's needs like travel costs and state athletic fees.
"I am very pleased to have this renovation on its way," said King, a former Central track star himself. "I really appreciate the county commission and school board's work."
"I'm probably more excited than anyone about it," Lewis added. "When I coached here, we had taken over 40 kids to state and won regional championships. We've got great kids at central who deserve it."
With ground broken for the track, the finished product should be ready following the 2018-19 school year.