English 10 and Theatre Arts Teacher Sally White Wins WDEF Golden Apple Award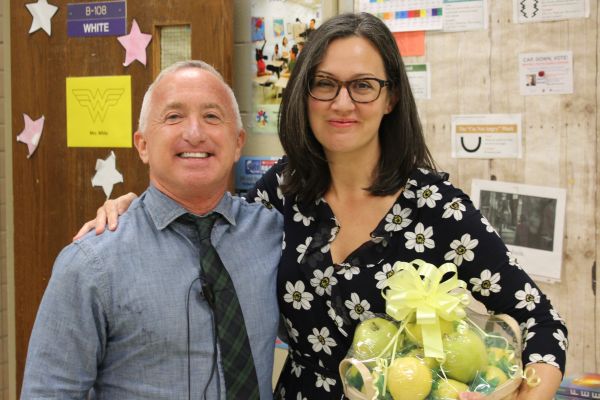 Everyday at Central High School, students attend the classes of seven of their teachers. Fifty minutes goes by and they are off to the next classroom. However, often times students fail to appreciate the immense amounts of time and dedication teachers put into instructing their classes. One particular teacher, Ms. Sally White, puts her heart and soul into teaching and as a result, was chosen to be WDEF News 12's first Golden Apple Award winner of this school year.
"She is without a doubt one of the best teachers around," stated Senior Matthew Frazier. "The class is super fun, lighthearted, and also serious. Ms. White is approachable and super lovable," explained Frazier. "Even when we all disagree, we all still get along."
White, a Central alumna herself, prides herself on being able to teach amazing students throughout her English 10 and Theatre Arts 2 classes. In fact, this year marks White's tenth year of teaching at Central High.
Principal Finley King presented Ms. White with the award, in the form of a bouquet of green apples, on behalf of WDEF. The award is given to exceptional teachers within the Chattanooga area that have been nominated by a student or parent.
Ms. White's students also consider her more than just a teacher; she is a motherly figure in many of their lives.
"I have never met any other teacher who cares so much about a student's future and who they really wanna be," expressed Senior Jimena Villanueva. "She has always cared about me as if I was her daughter. She is always there for me when I need her."
White is also the sponsor of both the Beta and Drama Clubs at Central High. She devotes countless hours of her life to ensure the well-being and education of her students.
"The reason I do it is because I have some amazing young humans in this classroom every day. No matter how long I keep going in this profession, I will absolutely never regret the years I put in as a teacher because I've met some of the most awesome people because they were teenagers in this classroom. So, that's why I do it," concluded White.
The WDEF story and video can be found here.
About the Writer
Preston Fore, Editor-in-Chief
Hi! My name is Preston Fore. I am currently a senior at Central, and this year will be my fourth and final year on the Digest; I am very grateful to serve...