Hamilton County TVAAS Scores Reveal an Improvement in Student Growth at Central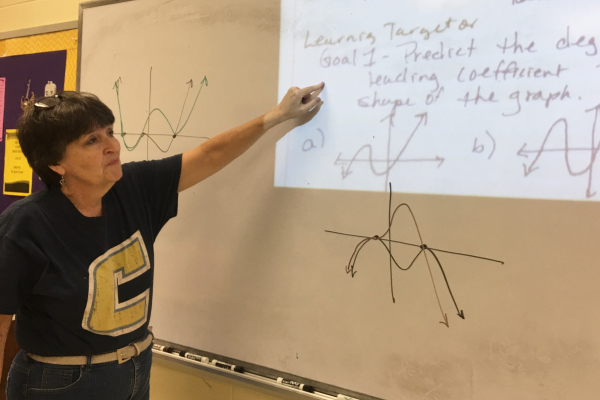 End-of-course state testing, one of the most fundamental aspects of American education, was measured using the Tennessee Value Added Assessment System this past school year. This assessment of students' test scores, better known as TVAAS, was published by Hamilton County at the start of the new school year. Hamilton County schools were graded on a scale of one to five with five being the most desirable score. As a whole, the county scored a level 3, which is the highest amount of growth seen by the area since 2013.
TVAAS scores calculate the amount of academic growth students have obtained over the span of a school year even if some students' learning didn't meet expectations at certain points of their school year. The scores are also used to measure teachers' instructing methods, which can help the district put more effective educational plans into place. One of the aforementioned plans implemented by the district are clear learning targets that are posted for students to reference as they understand the core learning material of each of their courses.
"I really like the idea of learning targets," admitted Algebra II and Precalculus instructor, Peggy Moyer."I've been using a variation of this system for years. I'm always specific because I like to think specifically. I always make sure that my learning targets match my students' homework so that they understand what they are doing and don't just think of my examples as a bunch of work on the board."
With their literacy, numeracy, literacy and numeracy combined, social studies, and science being analyzed, the Harrison Bay Learning Community was recognized for making a perfect score of five. Among those schools with a perfect rating were Harrison Elementary, Brown Middle School, Hunter Middle, Ooltewah Middle, Bess T. Shepard Elementary, and Wolftever Creek Elementary.
The composite scores for the 2016-2017 school year were severely inadequate, with the exception of literacy obtaining a level five. Despite this, the 2017-2018 school year showed substantial growth in all the areas that the county struggled with, turning the scores of one to scores of three and four. The only outlier was in the numeracy category.
Although the county as an entity overcame the gap in growth, Central's TVAAS numbers could use improvement. The institution got a literacy score of two, science and social studies score of four, with numeracy and literacy, and numeracy making a score of one compositely. Individually, chemistry excelled with a five as well as US History with a four followed by English I with a three. Unfortunately Biology, the other English courses, and the algebra courses were at a level two, with Geometry only achieving a level one.
"I think that if we fix the school's approach on the math section of the test, then that will make a big difference on this school year's TVAAS scores,"divulged Junior Jazmynn Ball, "
Hamilton County high schools generally did not meet growth expectations, which has caused the department to find ways to increase classes' relevancy. All of the new plans presented by the Department of Education were erected in hopes of making these schools the fastest improving district in the state. Teachers and students alike are hard at work to make this goal a reality.
About the Contributor
DayOnna Carson, Editor-in-Chief
My name is DayOnna Carson, and this is my fourth year being on the Central Digest! I love reading and making stories of my own, so I am glad I got the...