The JROTC Program Celebrates a Century at Central High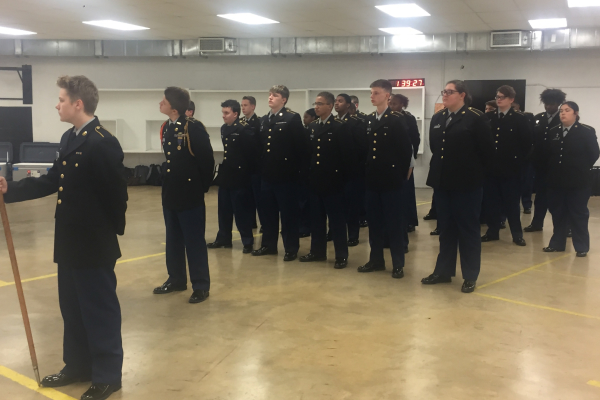 Hang on for a minute...we're trying to find some more stories you might like.
The First for Freedom Battalion is the oldest JROTC program in Tennessee. It began at Central in December of 1919 and is approaching its 100th year this December of 2018.
The program has had many changes over the past century, this includes the mission which changed from 'To Develop Young Men and Ladies' to 'To Motive Young People to be Better Citizens'. Another change is the ROTC and military uniforms.
"As they change theirs [uniform], we change ours," explained Sergeant Major Franklin.
The rifle team's rifles have also been adjusted due to safety concerns. In the beginning, they used military rifles, but citizens felt it was too unsafe so they switched to 22 rifles, which were less powerful. Even after the change, parents still felt it was too dangerous, so they currently use pellet rifles.
The JROTC program started when Congress established it to encourage young people to do military service.
"JROTC helps young people continue to develop. They come to us as young teenagers and graduate as young adults," recounted Sergeant Major Franklin."They just want to succeed."
The program has been successful because professional instructors that share the same values work with students who are receptive to the values they are given.
"It has succeeded due to years of traditions such as the military ball and the annual parade. We earned the title of  'Honor Unit With Distinction' every year for decades. As one of the most successful and well rounded programs in the nation, it's no wonder we have lasted so long," Senior Matthew Frazier shared.
"However, I would not recommend ROTC for everyone. ROTC is for well disciplined students who are willing to make an investment. To those students, I'd highly recommend because there is a lot they can get out of it. It is a lot of fun," Frazier added.
These 100 years have been highly successful and the school hopes to continue following the traditions the ROTC Program holds.
About the Contributors
Airicka Richardson, Staff Writer
Hi! My name is Airicka Richardson, I am a freshman, and this is my first year on the Digest. I enjoy listening to music and drawing. My favorite subjects...
Jack Graham, Staff Writer
Hello, my name is Jack Graham. I am a sophomore, and this is my second year on the Digest. I like to hang out with my friends outside of school, but I...