Central High School's Social Media Struggle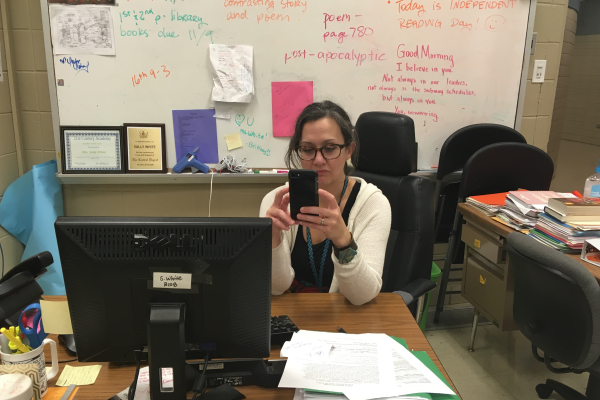 There is no second-guessing that the use of social media has expanded over this past decade. Social media has sneaked its way into the lives of millions; it has infiltrated its way into many aspects of life, including school, but what is Central's opinion on the situation?
AP government and gifted teacher, Danielle Hooper, is an advocate of school and social media merging, and she is specifically focusing on Twitter to implement her plans. On October 25, Hooper sent a call-to-action email to Central's staff.
"CHS is losing in the twitter war. I'm not sure how many of you tweet (honestly I am still new to this), but Mr. King and I were discussing how we can improve our Twitter profile. Is starts with you guys. Can you commit to tweeting once a week about something cool going on in class?" read Hooper's email.
Both students and staff have mixed opinions on Hooper's suggestion. Two students, Junior Elena Salgado and Sophomore Taylor Hearrell did not have the most positive opinions about teachers tweeting.
"They should not tweet about what they do in class because they didn't get a degree to spend their time on social media. The way it is right now is perfect," Salgado announced.
"It [tweeting] seems like a waste of time. I don't think it could help or improve anything because they have conference meetings for a reason. It takes time out of the day for the teachers to tweet about what they did that day when they could be doing something that actually helps their students," Hearrnell opinionated.
Along with these negative opinions about teachers using social media, Algebra two and Pre-calculus teacher, Peggy Moyer, did not have a positive outlook on using Twitter because of one specific individual.
"I do not tweet. Thanks to Donald Trump, I have a poor opinion of Twitter. Yeah, social media is not my thing," Moyer explained.
Despite negative associations with Twitter, a couple members of the staff had more positive feelings toward the use of social media, such as U.S. History and yearbook teacher, Shaun Seals, who caught himself stuck in the middle of conflicting points of view.
"I have a Twitter but I rarely use it. I think it is a fine idea, but I always worry about students who don't want their pictures on the internet," Seals pointed out.
English 10 and drama teacher, Sally White, possessed a favorable outlook on social media mixing with school.
"I think it's fun! We shouldn't care about what people think about us and what our reputation is. I use social media frequently, not Twitter, but I share with my friends about the learning going on and the positive things happening," White reflected.
Though combining social media and school is controversial at Central, Hooper's desire is to spread Central's positivity to Hamilton County and the schools surrounding it by taking advantage of social media's potential.
"Central has great students and staff and the county should know it," concluded Hooper.
About the Contributor
Abby Young, Staff Writer
Hello! My name is Abby Young. I am a senior here at Central and this is my second year on the Digest. I am unsure what I want to pursue after I complete...