Ruriteen Club Organizes Food Drive for Those in Need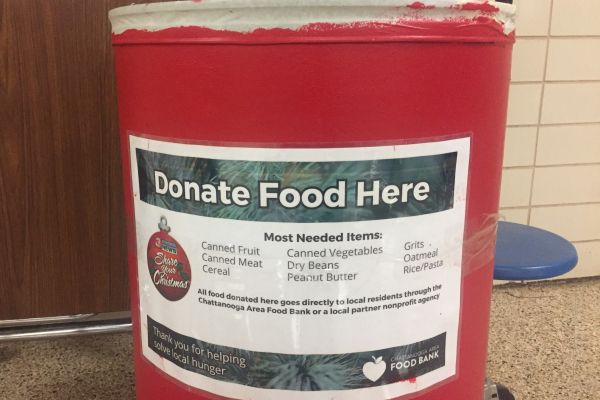 From November 1 through November 14th, Central hosted a school wide food drive to help those in need. The event was sponsored by bookkeeper Donna Rast while the members of the school Ruriteen club helped organize everything. The Ruriteen club strives initiate several service projects for the school and surrounding areas, and the food drive was another effective way for students to make a positive impact on the citizens of their community.
The nonperishable food items that were in high demand of the event organizers included canned fruit, canned meat, canned vegetables, dry beans, peanut butter, grits, oatmeal, rice, pasta, and cereal.
"The CHS Ruriteen club decided that this would be a great service project for November," Mrs. Rast divulged.
The red barrels located in the cafeteria and near the front door of the building were for food items. Anyone that had any goods to turn in were instructed to  place their donations in the aforementioned containers. There were also boxes set up in the armory, however they were only to be used by JROTC students in their appropriate class period.
To help spread the word of the food collection, administration offered incentives in hopes of increasing participation and the number of donations received within the specified time frame.
"If you bring in five non-parish able food items, you will earn a uniform exemption for Thursday, November 15," Sergeant Major Franklin informed his JROTC students.
Any senior that turned in five or more cans or food items would be eligible for one service hour. In order for students to receive their service hour, they had to meet with Mrs. Rast in order for her to verify it and sign their service hour sheet.
The principal goal of the food drive was to support and feed hungry families in the Chattanooga area. Rast has expressed her desire for the food drive help influence the students at Central to take time to help aid the less fortunate in our area. When it comes to giving back, she recommended that everyone help out as much as they could.
The Ruriteen club plans to complete a service project each month to help give back to those in need. If one is interested in assisting other living in the area, then the Ruriteen club would be a great way to enable students to make a difference in their community.
About the Contributor
Airicka Richardson, Staff Writer
Hi! My name is Airicka Richardson, I am a freshman, and this is my first year on the Digest. I enjoy listening to music and drawing. My favorite subjects...