Central Students Succeed as Delegates of Djibouti, Kazakhstan at Local Model United Nations Conference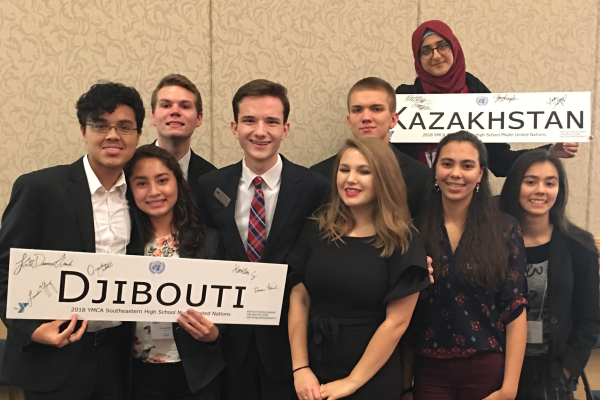 On November 17-19, nine Central students participated in the Southeastern High School Model United Nations conference hosted at the Chattanooga Convention Center. This rigorous, student-led symposium enabled students to collaborate with others from high school across the region to come up with solutions to international dilemmas in accordance with their assigned country. There were a multitude of unique committees, each with their own theme and discussion topics, for participants to choose from in order to mimic the official United Nations.
Referred to as SHSMUN for short, the program welcomed a record number of 600 students at its 24th rendition. It was founded here in Chattanooga, Tennessee in 1995. Among the students in attendance as delegates were six seniors: Jake Johns, Zeena Whayeb, Laurelie Holmberg, Deanna Wnuk, Hanton Guerrero, and Matthew Frazier. Juniors Danae Wnuk and Cassandra Castillo were also delegates representing our school. Gifted instructor Danielle Hooper acted as the coordinator and chaperone for the group, having recruited students to join. Our school representatives were either advocating for the country of Djibouti or Kazakhstan.
As aforementioned, SHSMUN harbored various committees dedicated to specific areas. Some of the general assembly committees such as Disarmament and International Security (DISEC), Social Humanitarian and Cultural (SOCHUM), and Economic and Financial (ECOFIN). Each group debated predetermined topics related to their committee names.
Although Central's Model UN team has gained many members, there are also returning delegates who had been promoted to more involved roles that they were required to fulfill this year.
"As Head Delegate, I taught students new to Model UN in our delegation how to correctly execute parliamentary procedure and debate. In General Committee, I was tasked with the responsibility of researching and debating every international issue discussed at SHSMUN," Johns divulged.
After participating last year, Central's very own Preston Fore was chosen to be the chair of the Economic and Financial Committee for the 2018 conference. He was among the staff of over a dozen other high school students in preparing and planning for the conference.
"After applying at last year's conference, I was chosen to be the chair of the economic and financial committee after being just a first time delegate. As the chair, during the spring, we have to write extensive 26-page topic guides about the three topics we pick to discuss for our committee. Then, during the fall leading up to the conference, we have to learn how to chair within parliamentary procedure with dozens of mock debates," Fore elucidated.
Fore was extremely honored to hold the position during the conference. As the founder of Central's delegation last year, he is proud of Central's participation. In fact, compared to last year, Central's delegation doubled in size.
"During the three day conference, delegates spend four committee sessions in their smaller committees, debating specific topics, and then hopefully writing and passing superresolutions. These [resolutions] then get sent to the General Committee, where they are voted on and sent to General Assembly," divulged Fore.
Topics debated stretched across many facets, from child rights in conflict areas to examining the implications of maritime cybersecurity.
"In my committee,UNEP [the United Nations Environment Programme], we discussed the role of extractives in pollution and resource consumption, sustainable development of water infrastructure, and bridging the gap for off grid settlements," Wnuk revealed.
After topics and potential solutions to issues were discussed within each group, all of the delegates from each committee came together during general assembly to debate said resolutions. The top superresolutions chosen by the chair of each committee had a fair chance at being passed by delegates and becoming United Nations legislation.
The sponsors and leaders of SHSMUN have a mission to educate the youth about real world issues that the world is currently in the process of trying to resolve. They also want participants to realize how complicated and involved international agreements can be. Delegates are encouraged to use their improved public speaking and debate skills outside of the program.
"It was my first year, so I was unsure of what I was supposed to do and I was apprehensive to speak at first, but near the end of it, I learned the procedures and I was able to speak on my country's position. In the end, I had fun, even if the beginning was a bit rough," Wnuk admitted.
"This year's delegates doubted themselves at first, but throughout the conference, their confidence and engagement rose. Teaching these delegates and coaching them to be successful in such a competitive conference was truly amazing and I am so proud of each and every one of them," Johns commended.
Our delegates' hard work really paid off, seeing as three of them had their resolutions make it to the conference agenda.
"My favorite aspect was the note passing in general assembly. It was super fun passing random notes with jokes to people you don't even know," Castillo imparted, "Being delegates of Djibouti was especially fun because of the jokes."
Last year, Hooper's group went into SHSMUN without much practice or understanding of how the program worked. However, this year they were able to grasp how to correctly debate and follow procedures, for a more smooth sailing and enjoyable experience.
"To further attendees, I would say have fun and try to make the most of the conference," Holmberg advised, "I will miss hanging out with all my friends and meeting new people."
"Model UN has helped shape me into the person I am. Being able to debate and help make solutions to really pressing topics has opened my eyes in more ways that I could ever imagine. It is a skill I will carry with me for the rest of my life," Johns affirmed.
Despite this year's success, Mrs. Hooper will be in need of more aspiring delegates to keep the club operating.
"This year's delegation made me so proud. I would challenge any student looking for a way to live their dream of public speaking and meeting students from through the state to join. We do have so much fun," Hooper expressed.
"For the past year, I have devoted my life to preparing for the conference. Meeting once, twice and sometimes three times a week, I have become amazing friends with many of my fellow chairs. I would never change my decision to become a chair for anything. Being a part of SHSMUN has been the time of my life, but now it's over for us seniors. I am excited for the new staff and I wish them the best. Hopefully I will be able to return to the conference to co-chair," Fore concluded.
About the Contributor
DayOnna Carson, Editor-in-Chief
My name is DayOnna Carson, and this is my fourth year being on the Central Digest! I love reading and making stories of my own, so I am glad I got the...