Donate Books and Hats to the National Honor Society in Support of Erlanger's Oncology Department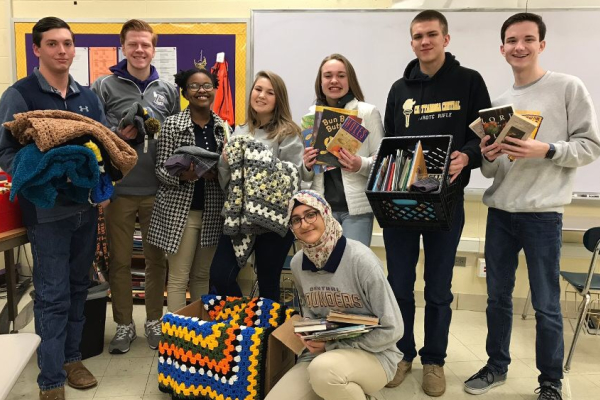 From January 16 through February 1, the National Honor Society is hosting a book and toboggan hat drive. All the books and hats that have been collected during the drive will be donated to Erlanger Hospital's Oncology Department for cancer patients. This idea was brought about by Mrs. Peggy Moyer, the National Honor Society sponsor, when she spoke about an organization in need of books and toboggans for their patients.
"The National Honor Society had several ideas for a service project. They did not want to do another food drive, so they came up with the idea of a book drive," Moyer, divulged. "My friend, Annette Wilson, works at the Erlanger Oncology Department. When patients are getting their chemo treatments, they are in there for hours at a time. She started a 'take one/leave one book' library at the main Erlanger campus."
The waiting rooms of hospitals are oftentimes cold, with little to nothing to keep patients occupied. Through this donation drive, the National Honor Society hopes to make patients' experience a little better with warm tobaggans and interesting books.
Since the Erlanger Oncology Department's patients range from children to the elderly, all books and hat sizes would be accepted.
"Any books are accepted, as there is a variety of [patients at different] ages," National Honor Society President Zeena Whayeb confirmed.
In order to donate, find a National Honor Society member during your lunch period on Mondays, Wednesdays, or Fridays so that they can sort the items for later distribution at the hospital.
"As of now, we have a few donors, but those that are donating are really generous," Mrs. Moyer revealed.
The National Honor Society needs more donations in order to aid those at the Erlanger Oncology Center. Many people have unwanted books sitting on their shelves right now that could make someone else's day, so spread the word and consider helping out this organization's generous cause.
About the Contributor
Airicka Richardson, Staff Writer
Hi! My name is Airicka Richardson, I am a freshman, and this is my first year on the Digest. I enjoy listening to music and drawing. My favorite subjects...