The Central Sound's Numerous Gifted Musicians Participate in Distinguished Honor Bands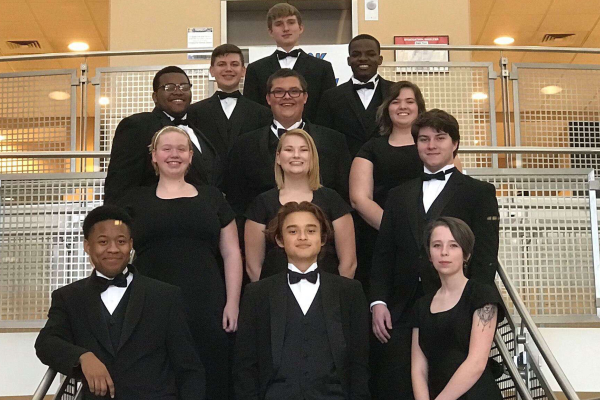 Central High School's band has always been renowned for its abundant talent. The group has been recognized with countless awards in both marching and concert band. Along with the whole band receiving recognition, the defining individual members are also acclaimed.
Honor bands are just one way outstanding talents in the band are celebrated. Top musicians from multiple states come together to form one band so they can preform music in collaboration.
JanFest and the UTC Tri-State Honor Band are two honor bands that Central students have recently participated in. JanFest was hosted at The University of Georgia on January 17 through January 20. UTC Tri-State honor band, hosted at The University of Tennessee at Chattanooga, took place January 24 through January 26.
"JanFest is, to my knowledge, the largest honor band in the country, with over 1000 students from across the Southeast participating. UTC is great, because it is our local honor band at our local university. Dr. Davis, Dr. Wilson, and the other music professors are really doing some good things over there. For our students who may be considering UTC as their next step, I want them to be familiar with the professors and directors so it is a smooth transition," Band Director Joshua Bloodworth proclaimed.
In honor bands, each participant has an audition where they have to exhibit their talent with prepared scales, musical pieces, or sight reading pieces in front a panel of judges. In some honor bands, the audition is to see if you will be accepted, but in some cases, members audition after being accepted in order to determine their placing in the band.
"The JanFest audition was really more of a placement test. I was already accepted. The audition consisted of a warm up, going into a room with two judges, and playing a prepared audition piece. I had about a month to practice the material. The process is definitely different depending on the honor band, although generally there are two types I have applied for: those that are recommendation based, as in you submit paperwork with a reference and rating by your band director, and ones that are purely audition based, where you prepare a piece and go in to audition," Junior Grant Scutt elucidated.
"For UTC, I had to play three scales and sightread music. I think my audition made me realize what I have to work on," Sophomore Megan Wooten informed.
Even if the musicians were previously accepted or not, feelings of tension and anxiety are universal throughout during their audition.
"I can either be very confident in my abilities and be fully prepared for an audition, or I could have not practiced and goofed off because I did not want to practice. Then, I would be completely terrified I am horrible, but most the time it goes better than I expect," Senior Lacy McKinney admitted.
"The worst part of an honor band is really just the stress of the audition, but once you are in, you are in and you feel great, like you are on the top of your game," Sophomore Triston Teague expressed.
Once the musicians are accepted into the honor bands and all the auditions are complete, they begin to practice the music they will play. Rehearsals can be long and strenuous, based on the fact that the band only has only a weekend to learn the music. The music can tend to be more easy solely on the factor of limited time.
"Compared to the music we play at Central, the music is way easier. It is a lot less technically advanced, because we have plenty of time to work on the pieces at Central, while at honor bands there is only a weekend or a couple of days to work," Sophomore Kenny McCrobey noted.
Honor bands like JanFest and UTC Tri-State Honor Band can be stressful and demanding, but rewarding at the same time. Many opportunities are available for the musicians. The students make new relationships and strengthen prior ones. In addition, they can also learn new techniques from working with different band directors.
"The highlights of honor bands are getting to know people and being able to laugh with them," Senior Landon Pearson reminisced.
"Honor bands give us a break from the music we play at home and allow new learning techniques and opportunities," Senior Georgia Teems stated.
"They give us the skill to adapt to any situation that we are thrown into, whether it be just musically, or in our personal lives," McKinney reasoned.
There are up-coming talents for the Central Sound to look forward to. However, many of the individuals that participate in these honor bands are seniors. Out of the 14 who engaged in JanFest and UTC Tri-State Honor Band, nine are seniors. These musicians are hesitant to let the last few moments go.
"With these being my last few honor bands, I cherish every moment while I am there. I really take it serious and make it the best last experience I have. It makes me sad knowing this will be my last round of honor bands, but I am making the most of it," Teems confessed.
Fortunately, there are still more honor bands approaching. Many of the band members that participated in previous two honor bands plan to audition for up-coming honor bands.
"I audition for everything I can: All-East, All-County, All-East Jazz, JanFest, Lee University, and UTC," Scutt informed.
"I am currently planning to audition for All-County band this February," Senior Edicklee Frias-Cruz revealed.
Central Sound has many opportunities to present its talents, and honor bands like JanFest and UTC Tri-State Honor Band are just two few examples. Honor bands are a positive force that drive the students to become improved musicians. These bands help manifest their talents and hard-work.
"Honor bands are probably one of the most rewarding things a young musician can do," Teague pronounced.
Bloodworth is very proud to see his students participate. He listens to their prepared materials and offers his advice. However, he believes it is not his guidance that assists his students, but it is their own musical abilities. He is elated to see what there is to come in the multiple impending honor bands.
"I am very excited to see all of the students' hard work pay off. All of these students are incredible musicians, and it is awesome to see them recognized outside of the band room for their great talents," Bloodworth emphasized.
About the Writer
Abby Young, Staff Writer
Hello! My name is Abby Young. I am a senior here at Central and this is my second year on the Digest. I am unsure what I want to pursue after I complete...