WRCB Anchor David Carroll Discusses Journalism Career with the Central Digest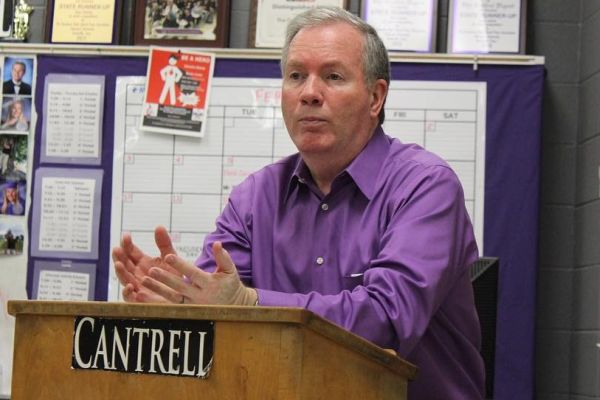 David Carroll has been a beloved member of the Chattanooga community for many years as the face and voice of WRCB Channel 3. Last week, Carroll took the time to discuss his experienced career with the writers of the Central Digest.
"Central has great kids, and the best principal in the world, [Finley King]; I have never seen a more devoted principal," explained Carroll. "Central often gets the short end of the stick. It doesn't get what it deserves in Hamilton County. I am glad that the new track is going in, but we've been trying to get Central a new theatre or auditorium for years."
According to WRCB's website, Carroll joined Channel 3 in 1987. He loves to focus on the educational news through his nightly School Patrol reports.  Carroll discussed his perspective as a local news anchor with members of the Central Digest after an invitation from Central's Gifted Service Provider and AP Government teacher, Danielle Hooper.
"It is so great that a local news legend took time to visit with aspiring journalists. He really gave them an eye opening account of the news business," said Hooper.
The news industry is one that is changing constantly, with new technological advancements bringing new innovation and job opportunities.
"Journalism is something different everyday. One of the great passions of journalism is we have the power and ability to help people. When I first start working for WRCB, we have 11 hours of local TV per week. Now we have 48," said Carroll.
The Central Digest staff members were inspired by the words of Carroll, as many hope to continue their passion for journalism in college and beyond.
"[Carroll] is an amazing role model for people going into journalism. He is definitely someone that is willing to go above and beyond to do his job," said Central Digest Associate Editor Cassandra Castillo.
"I tell students and aspiring journalists that they need to learn the basics. There are so many new job opportunities out there in the field of journalism, but you need to make sure you how to write, from your head, with proper grammar and spelling"
Carroll is known by many students as the man who calls off school. His infamous tweets inform students quickly when school has been cancelled for any reason.
"I have enjoyed [interacting with students on Twitter] too much. I have even started saving some of the best or really funny replies." It's real cool to be able to interact with anyone; I love [Twitter]," explained Carroll.
Carroll continues to serve his community in various mediums on TV, radio, and social media. However, he hopes the younger generations will succeed just as he has.
"Use your time wisely in school. And most importantly, take pride in whatever you do," concluded Carroll.