Central Choir Students Perform in the Lee University Honor Choir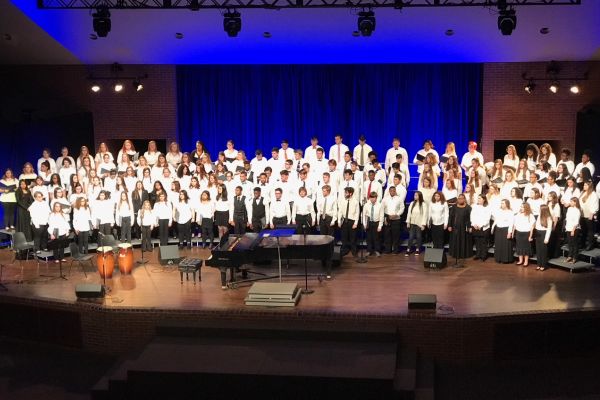 On February, 8 through 9, students from the Central High School Choir participated in the Lee University Honor Choir.  Students were awarded this opportunity by being selected by their chorus directors for showing excessive musicianship and character.
Central High School, East Hamilton High School, and Signal Mountain High School all represented Hamilton County for the Honor Choir.  Other districts that were also in attendance include Bradly County, McMinn County, as well as counties from North Georgia and Kentucky.
"The Lee Honor Choir gives students an opportunity to come together with students from other schools to learn and perform choral literature under outstanding conductors, who are professors at Lee University.  This year, there were two conductors:  Dr. William Green, director of the Lee University School of Music, and Dr. Joshua Cheney, assistant professor of music, and director of the Lee Choral Union and the Men's Choir at Lee," explained Katheron Latham, Central High School's chorus director.
Students who made it to the choir participated in ladies' and men's rehearsal, as well as rehearsal with the men's and women's choir together. Students rehearsed from 9 a.m. to 6 p.m. on Friday, and then again from 9 a.m. to 2:30 p.m. on Saturday. The weekend ended with an amazing performance from the Honor Choir at 3:00 p.m. on Saturday.
"Experiences such as the Honor Choir expose students to a university campus and give them an opportunity to experience more advanced music. Hopefully, the experience encourages students to continue to strengthen their musicianship and strive for excellence, as well.  It also helps them meet students from other schools who enjoy choir as they do. The students did a great job representing Central High School. They were excited about their performance and look forward to participating in more events like this in the future," stated Latham.
Students who went on the trip enjoyed it as much as Mrs.Latham did watching them rehearse and perform. Quiana Redman, a sophomore at Central, was thrilled that all of her fellow peers got to learn under college music professors.
"Well one of favorite parts [of the trip] was meeting new people. I also really enjoyed when all the girls and boys sang together," concluded Redman.
About the Contributor
Dylan Muccino, Staff Writer
Hi, my name is Dylan Muccino. This is my junior year at Central High School and first year on the staff. I am a cheerleader at the Stingray Allstars and...