2019 Miss Central Court Nominees Announced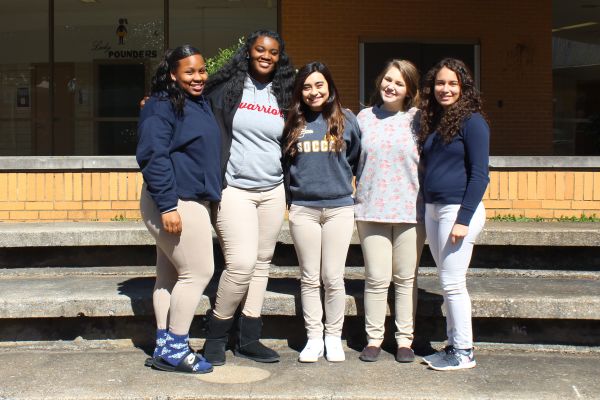 As the 2018-2019 school year comes to an end, the annual tradition of crowning a new Miss Central has commenced. This title is awarded to the senior student who is the best representation of what Central High School stands for, and is an honor for anyone being nominated.
The candidates announced were Anahi Colunga, Edicklee Frias-Cruz, Laurelie Holmberg, Kayla Henderson, and Zariah McDonald. These people have set an example for the rest of the student body by participating in various sports, programs, and clubs school-wide.
Anahi Colunga is the daughter of Liliana Garcia and Eleuterio Colunga. Her plans for the future are to go to Chattanooga State Community College for two years, transfer to the University of Georgia, and later attend medical school. Colunga has been involved in cheerleading, soccer, alumni golf tournaments, Little Pounder Football Camps, Homecoming, and Beta Club.
"To win Miss Central would really be an honor and it would mean a lot to me, although it already means a lot to me to be on the court; I'm very content with that," stated Colunga.
Edicklee Frias-Cruz, daughter of Edickson Frias and Raquel Cruz, plans to major in business. After receiving her master's, she will either go into a career in business or attend law school. Frias-Cruz has been involved in Beta Club, National Honor Society, Marching Band, Jazz Band, Concert Band, and Ruriteen Club.
"It means so much to me to know many of my classmates believe I am a representation of what Central is," revealed Frias-Cruz.
Laurelie Holmberg is the daughter of Paula and Nelson Holmberg. Her plans for the future are to attend Middle Tennessee State University in the fall and receive her PhD someday in exceptional education. Laurelie has participated in the Ruriteen Club, Beta Club, National Honors Society, Model UN, planned the CDC prom, has hosted the talent show, and was on the Homecoming Court this past fall. 
"Being Miss Central would mean I have done my duty at Central and, hopefully, was a positive role model for others," explained Holmberg.
Kayla Henderson is the daughter of Larry and Crystal Henderson. She plans to attend Austin Peay State University and get her Bachelor's in Physical Therapy with a minor in human resources. She also plans to have her own physical therapy business. Henderson has participated in ROTC for four years, softball for three years, drill team, academic team, color guard, Saber team, Choir, Beta Club, and On Point.
"It would be a great accomplishment to represent Central. Triple Pounder is an honor and privilege that I wear with pride. It would mean the world to me to represent the school that made me who I am," expounded Henderson.
Zariah McDonald is the daughter of Delissa Marshall and Brian McDonald. McDonald plans on attending Austin Peay State University in the fall. She will be majoring in political science and minoring in African cultures. She has participated in JROTC for four years, OnPoint for three years, FCA for two years, volleyball for four years, and Beta Club for two years.
"Being given chance to be Miss Central is an honor all by itself. I have been a Triple Pounder for four years, and being able to represent Central like this is amazing and life-changing," declared McDonald. 
These girls have used their time at Central to do great things and promote the school; their nomination has proved that they are all deserving of the title of Miss Central.