The Central High School Drama Club Gets Personal With "Almost, Maine" Production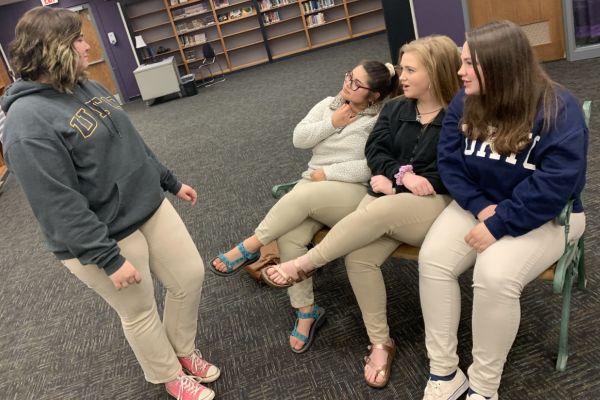 Central's drama club has been rehearsing for  another play that they will be presenting in the school library on Friday, April 12, and Saturday, April 13. This production is titled Almost, Maine and it is about the formation, re-connection, and termination of romantic relationships.
The play includes a set of scenes all occurring simultaneously, however they will be presented sequentially. This scene transition is made clear by the appearance of the Northern Lights at the close of each vignette. The audience will get to watch men and women reckon with their true feelings in each scene.
"Some of the scenes are romantic; some are quirky; some are painful. The play, as a whole, is relatable and endearing," Ms. Sally White, Central's English 10 and Theatre Arts II teacher, spoke.
In Almost, Maine, Jimena Villanueva, Jacob Sylman, Jaleesa Smith, Jake Johns, Caitlin Leamon, Brandon Henderson, Abby Young, Preston Fore, Alissa Pence, Eric Carson, Valeria Mazariegos, Jacob Wright, Jordan Lowe, Jaheim Williams, and Amaya Martin will all be performing and contributing to the production.
Junior Jacob Wright is playing the part of someone attempting to be technical.
"I think the play is very funny. I think people will definitely be able to relate to the play," Jacob Wright said.
"I really like the play. It's funny and dramatic. I feel like some [people] can relate. It's all about relationships and love. There are break ups and people being confused with how they feel," Junior Alissa Pence expressed. Pence will be playing Shelly, who happens to fall in love with her best friend, Hope, over the course of the play.
"The theatre students and I read several plays and ultimately chose this one because the characters and themes just resonated with us all. Everyone who sees it will surely identify with at least one character or situation presented by this playwright," Ms. White concluded.
About the Contributors
Airicka Richardson, Staff Writer
Hi! My name is Airicka Richardson, I am a freshman, and this is my first year on the Digest. I enjoy listening to music and drawing. My favorite subjects...
Preston Fore, Editor-in-Chief
Hi! My name is Preston Fore. I am currently a senior at Central, and this year will be my fourth and final year on the Digest; I am very grateful to serve...