Frazier, Teems Named JROTC Royalty at Military Ball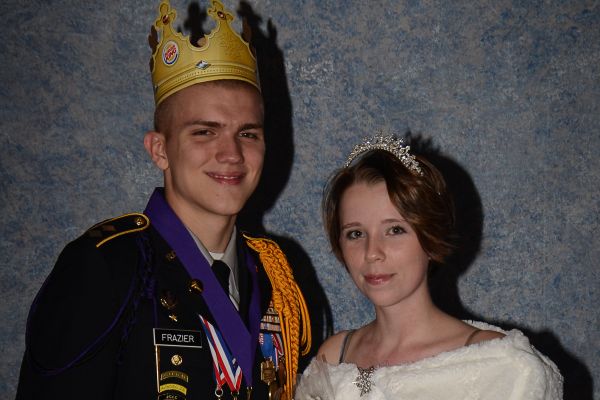 Hang on for a minute...we're trying to find some more stories you might like.
Central High School is known for the distinct traditions it upholds, one of these being the annual military ball  coordinated by the JROTC, Junior Reserve Officer's Training Corps, department. This year, the extravaganza was held on March 1, 2019, aboard the Southern Belle riverboat in downtown Chattanooga. Tickets cost students $35 per person, or $60 per couple, and were available to JROTC students as well as any of guests that they  invited.
The most esteemed part of the night is the crowning of the king of queen of the ball. At the ball, senior JROTC members are recognized for their time in the program, followed by the identification of the king and queen. These two esteemed members are voted on by their peers. For 2019, First Sergeant Georgia Teems was chosen as queen, and Lieutenant Colonel Matthew Frazier was voted king.
"It was very cool to win, and honestly kind of unexpected. I am not a fan of super serious situations, and it really lightened the mood when I realized they gave me a Burger King crown. Overall, it was a great night," expressed Frazier.
"Winning queen was probably the best thing that's happened in ROTC. I was really surprised but very thankful," shared Teems.
Along with being tradition, the military ball is also a Cadet Command requirement, a requirement to uphold Central's respected battalion status. This year marked the 100th annual military ball for the "First for Freedom" battalion here at Central High School.
"This military ball was my third one and the best one I've been to. Spending the whole night with my friends was what made the night so amazing," revealed Teems.
JROTC is a student lead organization, so the cadets hold leadership meetings to discuss possible locations and themes, and then the leaders of JROTC approve or deny the students' decisions. Although the night is formal, the goal is for the cadets to have one last night of fun before the end of the year.