Central Welcomes New Boys' Basketball Coach With Open Arms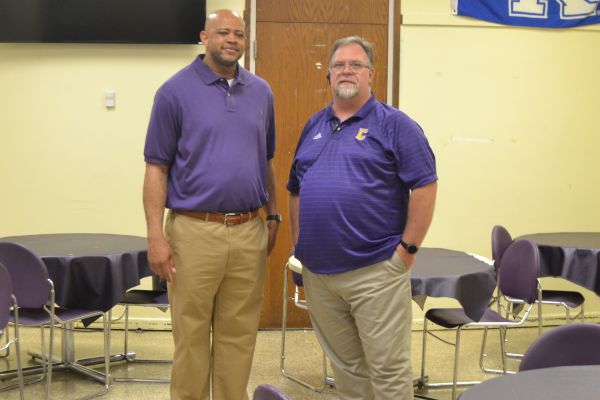 Mentoring today's youth carries a lot of responsibility, and allows one to steer the future of the nation towards the right direction. Many advisors try their best to guide teens to the right direction, but not everyone is capable of doing so. Coach Rick Rogers made sure he did his best when it came to coaching the Central Boys' Basketball team. Unfortunately, he will be stepping down from his position at the end of the year, leaving some big shoes to fill. Kantonio Davis, who will be taking Rogers' place, hopes to be able to fit into those big shoes that have been left behind.
Davis shared the roots he has with the sport and why he is a great installment to Central's Basketball team. His origins really show how devoted he is to the game, and how much of an impact it has made on his life.
"I started playing basketball in my neighborhood when I was young. I ended up playing for my middle school because my uncle was the coach. This helped me to start to like the game more. After ninth grade, I grew about four inches, so there was more pressure to become better at the game. That's what happened; I got better [and] became an Alabama All Star, chosen to play in the Alabama versus Mississippi All Star Game," revealed Davis. "[Additionally, I received] a scholarship to play college basketball. I played at Faulkner State Community College my first two years and finished from the University of Montevallo. At Montevallo, I finished fourth in the nation in field goal shooting percentage my senior year. During my high school and college career is where I developed a true love for the game of basketball. I knew that I wanted to be involved with basketball and have a positive effect on the youth through basketball."
He has plenty experience in coaching and is pretty confident in his abilities. His past work illustrates him as a great mentor to the team, which is especially important when it comes to adolescents participating in extracurricular activities such as basketball.
After Davis graduated from college, he took on several coaching positions of various degrees. Initially, he was a varsity assistant and head middle school coach, however, as administrators began to notice his exemplary coaching methods, he advanced to more important and involved titles. He became head freshman and varsity assistant coach and then went on to work as the head junior varsity and varsity assistant coach.
"One day, I was given the opportunity to start my own program from scratch. It was a new high school. I worked hard to mold minds and create a culture that was based on hard work and determination. I was lucky because I had players that bought in and wanted to be winners. We went through some growing pains but became winners. We never lost an area championship," recalled Davis.
With this new school's team, that he had administered since its formation, students were able to receive the honor of regional runner-up once and regional champions twice, eventually becoming state runner-ups twice. Eight of his players continued their basketball careers at a college level in the span of six years.
Coaching for Central will obviously be a new, yet familiar position for Davis to be partaking in, since this will be Davis' first time working with the school, but he is impressed with the facility.
"I have not had a lot of time to spend at Central so far, but the few times that I have been there have been great. It seems to have an amazing atmosphere. Students were on task and involved in the well being of the school. The staff appears to all be on the same page, working together to make it a great place for the students. I am really excited about my future at Central," stated Davis.
There are certain traits and values that players should carry to adulthood. Davis shares what valuable life lessons he aims to teach his pupils. He hopes to transfer the experience he has gained throughout the years to the rookies.
"My players will understand that nothing comes easy. There is true value in hard work. They will understand teamwork. They will understand the importance of communication and commitment. They will be taught and shown how to be a man," concluded Davis.
About the Contributor
Jaheim Williams, Staff Writer
Hello, my name is Jaheim. I am a senior here at Central, and this is my second year being on the Digest. I am considering becoming a sociologist or a psychologist...