Carson, Castillo, and Catlett to Serve as 2019-2020 Central Digest Head Editors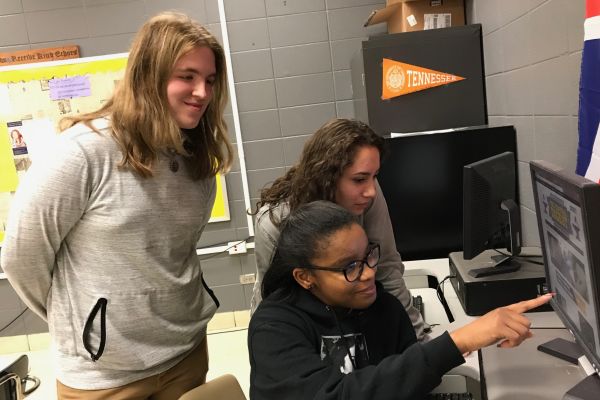 As the school year begins to wind down, preparations must be made to ensure successful transfers of leadership from the graduating seniors to the upcoming seniors. For the Central Digest, this process is bittersweet as the publication ushers in a new rein of editors. For the past two years, Seniors Preston Fore, Jake Johns, and Matthew Davis have served as editor-in-chief, copy editor, and assistant editor, respectfully. However, next year, new leadership will take charge during the digitized newspaper's seventh year of publication.
"We have a strong group of student journalists coming into leadership positions next year. They have been learning how to do their editor duties unofficially for a while, so it hopefully will not be a big jump for them," explained Journalism Adviser Greg Cantrell.
For the 2019-2020 school year, DayOnna Carson will be the new editor-in-chief, Cassandra Castillo will serve as the new copy editor, and Blake Catlett will step-up as assistant editor.
"I came into journalism not really knowing what to expect. I was quiet and terrified of high school and people in general," explained Carson, who is a current junior.
Carson has been a member of the Central Digest since her freshman year, and is set to receive the new Advisor's Award that was established this year to honor four-year journalism students. Fore, Johns, and Davis were the inaugural recipients.
"I have a lot of faith in my fellow editors. They are extremely capable and know more than me most of the time. I am confident they will keep up the quality of our website," said Carson.
Meghan Duncan is set to return as sports editor, where she has served for the past two years. Karleigh Schwarzl will follow her lead as assistant sports editor, and Bailey Brantingham will lead the remaining staff as the head staff writer.
Carson hopes to be able to expand upon the Central Digest's successes over the past few years. For three years in a row, the Central Digest has been designated an SNO Website of Distinction, and recently received a Superior overall rating by the Southern Interscholastic Press Association (SIPA). Carson herself won second place in online sports in SIPA's writing contests for her story about Central's new track; she is very optimistic about the Central Digest's achievements for the next school year.
"I hope to help us achieve first in competitions and put out a lot of meaningful stories in a timely manner. I also hope to bring more dedication and appreciation for the journalism industry," said Carson.
While the graduating seniors are sad to leave, the Central Digest will continue to produce interesting and informative articles about the Central High School community for years to come.