Central Competes Against Notre Dame in Food Drive Benefiting the Food Bank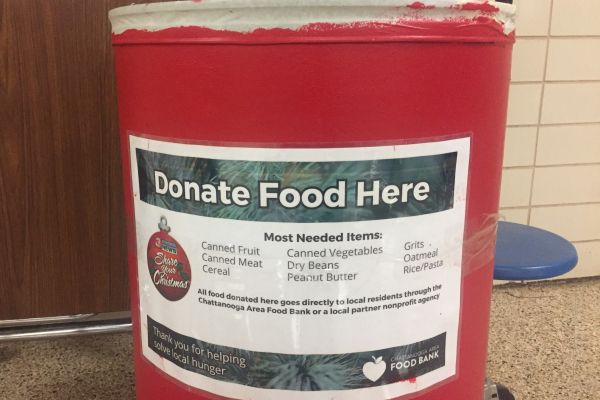 Last Friday, Principal Phil Iannarone announced Central's participation in a food drive competition against Notre Dame High School. Students were asked to donate as many non-perishable food items as possible from August 19 through August 21, with all proceeds being given to the Chattanooga Area Food Bank.
"We said not only that we want to win the race, but we want to reward students with a jean day," Iannarone revealed.
The winner will be determined by weighing the donated goods from each party. The school that donates the most food will receive recognition at the upcoming football game being held at Notre Dame this Friday.
The city-wide event is hosted by Synovus, partnered with local radio stations, who is in charge of organizing the Friday night football tournament. Each week, they focus their attention on two specific high schools that are planning to compete head to head at their next football match. Their selection is then presented with the food drive challenge leading up to the official match.
This format resembles that of the PB&J Blitz held by Synovus in recent years. In 2018, Central was awarded for transcending the opposing team in a peanut butter and jelly drive. The school managed to receive much more donations than the opposition, garnering a plaque of achievement.
At the football game, each high school will select a scholar athlete to represent their institution and enter for a chance to receive a scholarship. In the last two years, both of Central's scholar athlete nominees, Kerri Sylvester and Michael McGhee respectively, were granted the scholarship out of a pool of other nominees.
"A student who meets the criteria of scholar athlete has a high GPA, is an overall good student and person in the building," Assistant Principal and Athletic Director Steve Lewis said.
This year's scholar athlete is Senior Jameson Willard of the football team. If Willard receives the honor, this will mark the third year in a row that a Central student has taken home the honor, and he will receive a plaque along with a feature on News Channel 9.
"I was pretty excited beacuase it's pretty cool to be nominated for scholar athlete out of the whole school and football team, especially by principal," Willard said. "It shows that not only on the football field, but also in class determination and hard work pays off."
As the Pounders step out onto the Notre Dame field, the student body and administration hopes that they will prevail in both the game and the competition.
About the Writer
DayOnna Carson, Editor-in-Chief
My name is DayOnna Carson, and this is my fourth year being on the Central Digest! I love reading and making stories of my own, so I am glad I got the...